From the Shelf
Going, Going, Gone?
Here's a fact for you: half of all Earth's species could be extinct by the year 2100. Horrifying? Most certainly. Surprising? Sadly, less so, especially to Joel Sartore, author, photographer, teacher and 25-year contributor to National Geographic magazine. In his new book, National Geographic The Photo Ark: One Man's Quest to Document the World's Animals (National Geographic, $35), Sartore sets about accomplishing his goals not only to photograph every animal in captivity across the globe, but also--and some would say more importantly--to inspire individuals to action.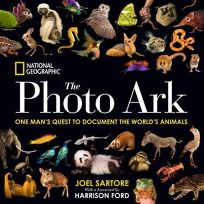 Operating on the premise that to see these animals is to recognize the need to save them, Sartore's aim is to eventually document all 12,000 captive species. Six thousand of them appear here, ranging from the beloved and well-known to the rare and unusual--even some who are the last of their kind. The Bengal slow loris shares page space with the tiger-striped tree frog. The giant deep sea roach demonstrates its startling similarity in looks to the southern three-banded armadillo. A pair of common warthogs peer proudly from a double-page spread. With more 600 photographs, you will not find a collection of more accomplished and gorgeous wildlife images. And the accompanying text, with a foreword by actor Harrison Ford and commentary supplied by author and National Geographic magazine contributor Douglas Chadwick, manages to communicate the dire situation these animals face while remaining hopeful: "The hard truth is that nature writ large will continue regardless of the specific mix of animals on the planet. It doesn't need humans to prevail. But when we start looking at species one by one... we learn where we can make a difference."
Tomorrow is Earth Day. And Sartore wants you to know the animals of the planet are calling. What will your answer be? --Stefanie Hargeaves, editor, Shelf Awareness for Readers



In this Issue...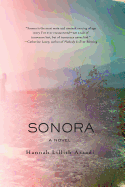 This startling coming-of-age story mixes childhood visions of Arizona with the postmodern anomie of New York City.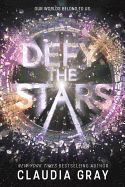 A tour-de-force whirl of space opera, philosophy and budding affection.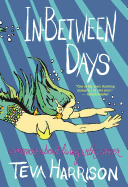 In-Between Days navigates Teva Harrison's brave, wry and unforgettable journey after her stage four cancer diagnosis.
Review by Subjects:
Fiction ⋅ Science Fiction & Fantasy ⋅ Food & Wine ⋅ Biography & Memoir ⋅ Business & Economics ⋅ Science ⋅ Children's & Young Adult

Book Candy
How to Start a Mother-Daughter Book Club
Bustle offered tips on "how to start a mother-daughter book club, even if it's just the two of you."
---

Buzzfeed shared "18 jokes you'll only get if you've read Shakespeare."
---
Mental Floss introduced "7 characters that didn't make it into the Harry Potter books.
---
Paste introduced "13 musicians influenced by author William S. Burroughs."
---
Salavat Fidai's pencil mini-sculptures "are popular all over the world. HBO even used them to announce the seventh season of Game of Thrones," Russia Beyond the Headlines reported.

Great Reads
Rediscover: The Guns of August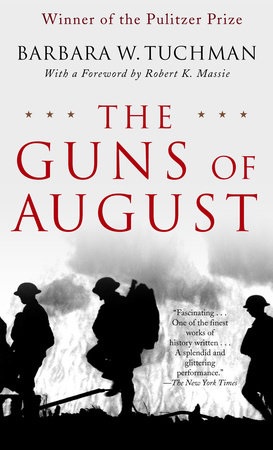 This month marks the centennial of the United States' entry into World War I. By the time President Woodrow Wilson asked Congress to declare war on Germany, the conflict had been raging since August 1914, claiming millions of lives and toppling empires. What became a global catastrophe of industrialized warfare began with a spark to a long-packed powderkeg when Serbian nationalist Gavrilo Princip assassinated Austro-Hungarian heir Archduke Franz Ferdinand in Sarajevo.

How this single act of violence begat a European apocalypse is the subject of Barbara W. Tuchman's 1962 book The Guns of August. Tuchman (1912-1989) won the 1963 Pulitzer Prize for General Non-Fiction with her narrative, layperson-friendly look at the onset of World War I. It begins in 1910, with the funeral of British King Edward VII, and the visiting European heads of state, many related to the departed monarch and each other, who would soon be at war. She outlines prewar military plans, some of which were a generation in the making, that came into terrible fruition in August 1914. Tuchman chronicles the whirlwind of geopolitical folly that lead to war and the conflict's opening moves, up through the First Battle of the Marne (also called the Miracle of the Marne), when Allied forces halted the German advance into France and created the first lines of static trenches. The Guns of August was last published by Presidio Press in 2004 ($8.99, 9780345476098). --Tobias Mutter

The Writer's Life
Dr. Willie Parker: Living with Conviction and Purpose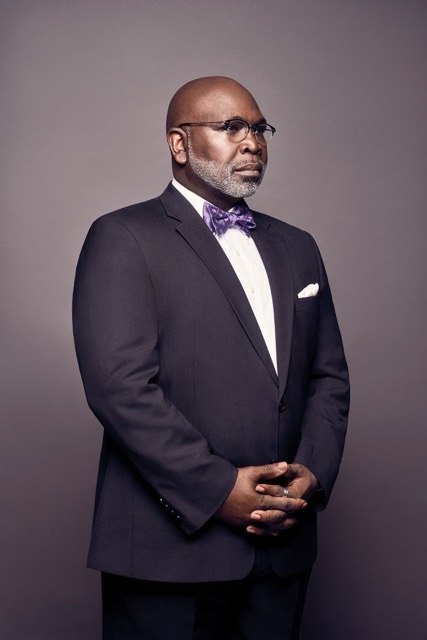 photo: Chad Griffith
Dr. Willie Parker is chair of the board of Physicians for Reproductive Health. He is a recipient of Planned Parenthood's Margaret Sanger Award, and the subject of Trapped, a documentary about the legal battle to keep abortion clinics in the South open. In Life's Work: A Moral Argument for Choice (just published by Atria), Dr. Parker passionately asserts being a true Christian means providing care and having compassion for all people in need.

Your work puts you in danger, but you face it down every day. What would you say to people who want to do the right thing but fear for their safety and/or that of their loved ones?

I think it's important that one does a risk assessment based on what feels both empowering and/or threatening to you personally. Someone said that you can use another person's knowledge, but you can't use another person's wisdom. Analogously, you can use another person's inspiration, but you can't use their courage. You have to find your own.

If you're in a situation where you have to take into account the wellbeing of others, then the risk assessment and degree of security one feels has to reflect those things for others. But if it's just you, you have to do what lets you sleep at night. You have to embrace something that allows you to strike the right balance between honoring your conviction and feeling safe in your choices.

You've said being an abortion provider is "kind of a rent that I pay for being on the planet. Our rent is our service." Have you ever felt the rent is getting too high?

The cost for [having] clarity, serenity, and purpose--reached by doing the work that I do--will always compute as a small price to pay when I look at the fact that the only real threat is one of bodily harm, and that is not the worst thing that could happen to me. I'm more afraid of living without conviction and purpose than I am that someone might try to harm me. So, to have the things I mentioned compared to any negatives associated with what I do, I feel like I get off fairly cheap and have struck a good deal.

You're a devout Christian but also use science and medical facts to argue against the "life begins at conception" notion. How does one persuade people who find science less credible or weighty than their religious beliefs?

I don't feel attempts at persuasion are a good use of my time, nor do I feel that it benefits me in any way to be more vested in truth on behalf of someone else than I am for myself. I think the integrity of the question... [lies] in whether or not there are those who are honestly ignorant and those who are willfully ignorant. I don't use ignorance as a form of slight for someone who disagrees with me, but rather, I subscribe to the saying that you cannot awaken someone who's pretending to be asleep.

I believe truth is bigger than me and so it has to have hold of me, I can't have hold of it, which is to say I don't have a need to defend the truth. I am more content to be defended by the truth. So I have ultimate confidence that facts matter, and science matters. If they didn't, there would be no need to create alternative facts or generate junk science.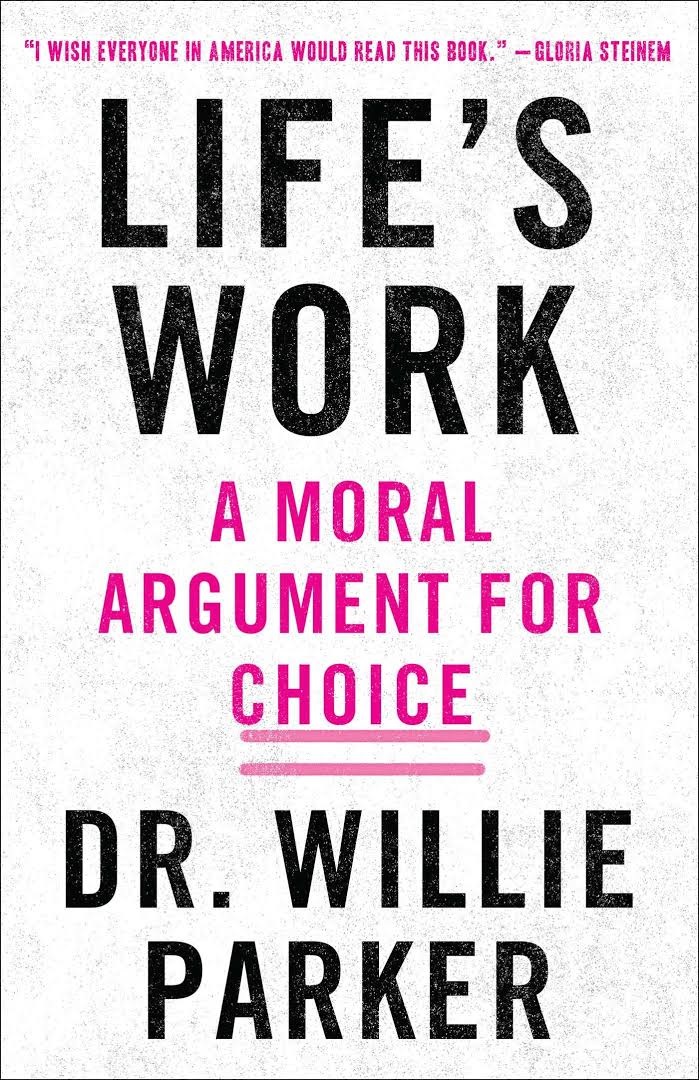 One of the things you advocate is talking about abortion openly to remove its stigma. But it's a volatile topic. How does one talk about it while preventing the discussion from escalating to a shouting match?

Mahatma Gandhi said, "Honest disagreement is the beginning of progress." I find the best way to honestly disagree is to set ground rules for engagement before embarking upon a conversation about issues that people feel very strongly about. That means I insist on an agreement to mutually respect indisputable facts.

Additionally, I insist on creating an air of mutual respect such that the contention or question is always about the issue, and not about the humanity of the person with whom I'm engaging. If I don't feel I'm in a situation where mutual respect can be maintained even in the face of vigorous disagreement, then I elect not to participate in that conversation. Hence, it's not as much what the subject is as how you choose to engage it.

What would you say are the biggest misconceptions about your work and your patients?

I would say the biggest misconceptions are that there is something morbid about it, and that women who seek abortion services are cold, aloof, indecisive, irresponsible or not mentally stable. Those opposed to abortion have done a good job of creating horror stories about what abortion is, and they enhance the power of those stories with a parallel shaming strategy that leaves women and people who provide abortions unwilling to post stories of their experiences that would contradict those narratives.

I want people to know that healthcare providers who provide abortion are no different from any other healthcare providers, and that the women who have abortions are no different from all of our mothers, sisters, partners and other female kin. That is who women who have abortions are.

Last year you spoke in Copenhagen at Women Deliver, the largest global conference on women's health and rights. How would you compare global abortion rights and perceptions with those in the U.S.?

It was a real privilege to speak at Women Deliver last year. Being in community with people from all around the globe was a new experience for me and one I will never forget.

What I know about the abortion picture around the world compared to the [one in the] U.S. is that in most places around the world, abortion is illegal and therefore quite dangerous for women who have to seek them. It is beyond question that abortion is lifesaving for the women who need it both literally and circumstantially. While the risks associated with abortion are so different [in] the U.S. [compared to that in] the rest of the world, particularly in developing countries, these efforts to outlaw abortion and make it difficult to access means we are closing the gap in the wrong way.

If someone told you they don't want to read your book, judging it by its cover, how would you convince the person to read it anyway?

If someone told me they would not read my book simply because of who I am and what I do or based on the title, it would indicate to me right away that person's mindset would not be easily swayed by any amount of lobbying I could do. Someone once said if you press against a closed door, that door only becomes more firmly closed. Minds are like parachutes--they function best when open.

I would say to anyone regarding my book--or any other piece of knowledge to which they might have access--reading or exposing yourself to a position different from your own doesn't change your position. It will either clarify your thinking on the issue so that you hold it more firmly, or it will make you question whether or not you should hold that position at all. We would all benefit if we would lose our fear of change, especially when it is for the better. --Elyse Dinh-McCrillis

Book Reviews
Fiction

Soho Press, $16, paperback, 208p., 9781616957926
Knopf, $27.95, hardcover, 352p., 9781101946886
Berkley, $26, hardcover, 352p., 9780399583407
Thomas Dunne, $25.99, hardcover, 240p., 9781250100528
Science Fiction & Fantasy
Del Rey, $28, hardcover, 336p., 9781101886724
Food & Wine
Penguin, $17, paperback, 352p., 9780143128090
Biography & Memoir

House of Anansi Press, $19.95, paperback, 128p., 9781487001087
Melville House, $28.99, hardcover, 304p., 9781612195957
Business & Economics
Penguin, $27, hardcover, 288p., 9781594205514
Science
Pegasus Books, $27.95, hardcover, 312p., 9781681773438
Children's & Young Adult

Little, Brown, $17.99, hardcover, 512p., ages 14-up, 9780316394031
Random House Teens, $17.99, hardcover, 320p., ages 14-up, 9780399555541
Minedition, $12.99, board book, 30p., ages 2-5, 9789888341375