From the Shelf
Tom Clancy, Storyteller Extraordinaire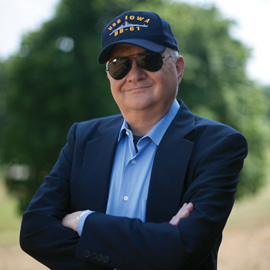 photo: David Burnett
Tom Clancy, who arguably created the genre of military-techno thriller, died Wednesday. He was 66 and was being treated in a Baltimore hospital for an undisclosed illness.
In the early 1980s, Clancy was an insurance agent in rural Maryland; he wrote The Hunt for Red October in his spare time. The manuscript was rejected by major publishers, which led him to approach the Naval Institute Press, in Annapolis, which had never published a novel. The Press took a chance with the book--and it was an immediate hit, helped in part by praise from President Reagan.
Clancy, whose subsequent books were published by Putnam, churned out blockbusters regularly, many featuring CIA analyst Jack Ryan, who first surfaced in Hunt for Red October. Some of his titles also became hit movies, including Hunt for Red October, Patriot Games and Clear and Present Danger. Clancy also set up a videogame company and became a part-owner of the Baltimore Orioles. There are more than 100 million copies of his books in print. Command Authority, another Clancy novel starring Jack Ryan, written with Mark Greanery, will be published December 3.
The Day recalled Clancy's loyalty to the Booksmith, the New London, Conn., bookstore that was the first to host an event by the unknown author. The late owner, Judy Reed, got an advance copy of The Hunt for Red October from a Naval Institute Press rep in 1984. "She and her husband stayed up, reading it that night," the Day wrote. "The next day, she told the publisher they wanted the author in their store--they knew they could sell this submarine-focused techno-thriller in southeastern Connecticut, home of the Naval Submarine Base and Electric Boat."
Clancy was so happy with his first event--at which he sold about 75 copies of his book--that he returned for signings of every new book. At his last signing at the store before it closed in 2000, he signed some 1,500 books. "On one level, I kind of owe it to them, and on another level, I come here for luck," Clancy told the Day.

In this Issue...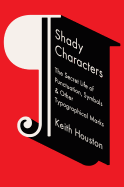 The history of punctuation and typographical marks from ancient Greece to the modern era!!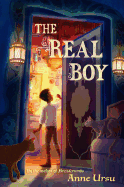 Eleven-year-old Oscar, adopted by a magician, learns there are things in life that matter more than magic.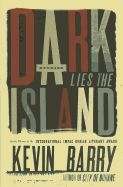 A darkly funny but moving collection of stories by an award-winning Irish writer widely praised for his tragicomic lyricism.
Review by Subjects:
Fiction ⋅ Food & Wine ⋅ History ⋅ Current Events & Issues ⋅ Reference & Writing ⋅ Children's & Young Adult

From Garden District Book Shop
Upcoming Events
Virtual/Zoom Event: Melissa Ginsburg in Conversation with Laura Lippman: The House Uptown
04/13/2021 - 6:00PM
Tuesday, April 13th 6:00-7:00PM CT Melissa Ginsburg in conversation with Laura Lippman, discussing her book, The House Uptown. This event is free, however a ticket is needed. Get Tickets Ava, 14 years old and totally on her own, has still not fully processed her mother's death when she finds herself on a train heading to New Orleans, going to stay with Lane, her grandmother whom she's never met. Lane is a well-known artist in the New Orleans art scene. She spends most of her...
Garden District Book Shop Book Club
04/14/2021 - 6:00PM
Join us for the discussion the second Wednesday of every month. New Members are always welcome. Purchase book in-store for a 20% discount. Beginning in June book club meetings will be virtual.
Virtual Happy Hour - Kelly Harris-DeBerry
04/16/2021 - 5:00PM
It's Happy Hour!! Join us as we celebrate National Poetry Month with poet Kelly Harris-DeBerry as we talk books, poetry, sound making, and more! The 2nd edition of Kelly's poetry book, Freedom Knows My Name will be available soon! Mix a drink and join us for this interactive live-streaming! This event will stream live on Facebook: https://www.facebook.com/GardenDistrictBookShop/ and YouTube: https://www.youtube.com/channel/UCE_bC6Cv_VnbDrqqN1OhnCw
Book Candy
A Congressional Reading List; The Power of Literary Fiction
"Dear U.S. Senators and Representatives: We understand you have some time on your hands." Quirk Books compiled a "mandatory government shutdown Congressional reading list."

---
Want to heighten your empathy, social perception and emotional intelligence? Reading literary fiction is the answer, according to a Science study, reported on by the New York Times. "Something by Chekhov or Alice Munro will help you navigate new social territory better than a potboiler by Danielle Steel."
---
What's so funny? Buzzfeed collected "32 books guaranteed to make you laugh out loud."
---
Inspired by Doctor Sleep, Stephen King's new sequel to The Shining, Mental Floss recalled "9 sequels written decades after the original book."

---
Ladies and gentlemen, we give you Lucha Libro, a competition in Peru that "makes book writing into a spectator sport and invites aspiring writers into combat."

---
Reading musician. Open Book Toronto featured David Bowie's top 100 books, noting that Bowie is "a voracious reader" who is reputed to read as much as a book a day.

The Writer's Life
Bill Bryson: One Author, One Summer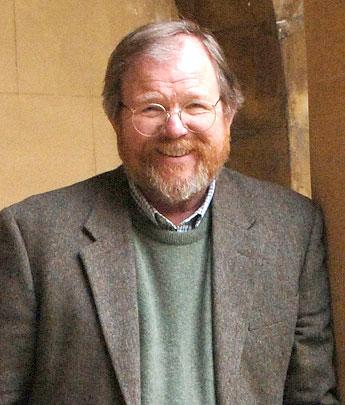 Bill Bryson's books include A Walk in the Woods, I'm a Stranger Here Myself, In a Sunburned Country, A Short History of Nearly Everything (which earned him the 2004 Aventis Prize), The Life and Times of the Thunderbolt Kid and At Home. Now he takes on an eventful season in America in One Summer (see our review below). He was born in the American Midwest, and lives in England with his wife and children.
When you visited Europe in the early '70s, you took a job in a psychiatric hospital. Did you have writing aspirations at that point or did they come later?
In 1973, when I was 21, I spent a summer hitchhiking around Europe, then stumbled into a job as an orderly at a wonderful old Victorian psychiatric hospital outside London. I intended staying only a few months, but I met a student nurse, and ended up falling for her and for England simultaneously. (I am pleased to say I am still very fond of them both.) All that changed the direction of my life completely, but it didn't actually have anything to do with my writing. That came later.
What triggered the desire to write about America in 1927?
I'd always been fascinated by the thought that Charles Lindbergh flew the Atlantic and Babe Ruth hit 60 home runs in the same summer, and had long wondered if it would be possible to write a dual biography. When I looked into it, I found that the summer of 1927 was possibly the most exciting and eventful summer any nation has ever had, and that Lindbergh and Ruth were only part of it. So the book became the summer itself rather than just those two figures.
One Summer covers an array of people and events from 1927. Did the final project include everything you wanted or did you have to do much cutting along the way?
The problem wasn't so much eliminating things as keeping so many stories going simultaneously. As I have just indicated, the summer of 1927 was staggeringly eventful: it saw the birth of talking pictures, the devastation of the Great Mississippi flood, the invention of television, the executions of the anarchists Sacco and Vanzetti, the starting of work on Mount Rushmore, the massacre of 37 schoolchildren in Michigan, the famous long-count fight between Jack Dempsey and Gene Tunney, Calvin Coolidge's unexpected decision not to run for re-election, and a whole lot more. Keeping all those stories going at once was slightly hair-raising.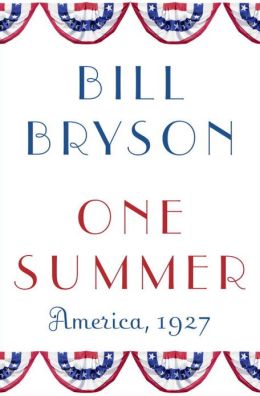 I was especially drawn to the small factoids throughout the book. Does the format lend itself to including most of what you find?
No, you have to be selective--and I found that to be the case more so here than with other books I have done. Although the book only covers five months of the nation's history, because the United States is such a big and busy and diverse place, there were lots of small or incidental stories I couldn't get in.
What was the most fascinating thing you learned working on this book?
Well, one thing I certainly didn't appreciate when I started work on the book was how brilliant Lindbergh's flight was. When a rival team tried to repeat Lindbergh's feat shortly afterwards in a plane with a crew of four--pilot, copilot, radio operator and a dedicated navigator--it missed Ireland by 200 miles and couldn't find Paris at all. Lindbergh's flight was very possibly the greatest piece of flying in history.
Did One Summer involve straightforward library and Internet research or did you encounter some unusual experiences preparing for this book?
The most painful experience was driving all the way from Chicago to Little Falls, Minn., to see Lindbergh's boyhood home and arriving to find that it had just closed for the winter. But at least I was able to see the house from the outside and to have a good look around the town. Apart from that one setback, all the research was pretty straightforward. The high point was spending a day with Alex Spencer and Robert van der Linden, curators at the National Air and Space Museum in Washington, D.C., and having them point out to me features of the Spirit of St. Louis that I wouldn't otherwise have noticed or understood.
You're often labeled as a "humorous travel writer." Has humor always been a priority for your writing?
I have always admired writers who know how to be serious but can make you smile, too--John Kenneth Galbraith and Stephen Jay Gould, for instance. Anyway, I defy anyone to write about Calvin Coolidge learning to fish without seeing the comical side of it.
What was the most memorable research experience for any of your books?
The most memorable experience, because it was so personal and unrelenting, was trying (not very successfully) to hike the Appalachian Trail for A Walk in the Woods. It was murder!
Many of your works have been of rather significant breadth. When you finish a book, do you feel exhausted of the subjects or do you find yourself continuing to engage with them?
For me, the interest remains, though there is a certain relief in no longer having to make your brain struggle to try to understand difficult concepts like the nature and behavior of subatomic particles.
Until a couple of years ago, you were Chancellor of Durham University. Wihtout those responsibilities, what's filling your "free time?"
I keep trying to wind down my outside commitments, but then other worthy things come along. I am just about to go off and take part in a charity hike in Newcastle-upon-Tyne for an old friend whose little boy was recently diagnosed with leukemia.
Is there any thing or any place you've had an interest in that you haven't had the right opportunity to write about--at least not yet?
I would love to do a book on Canada. Publishers always beg you to write about anything else because nobody wants to read a book on Canada, but to me that just makes the challenge of it all the more appealing. --Jen Forbus of Jen's Book Thoughts

Book Reviews
Fiction

Graywolf Press, $24, hardcover, 9781555976514
Scribner, $30, hardcover, 9781476727653
Vintage, $15, paperback, 9780345806659
Little, Brown, $26, hardcover, 9780316206129
St. Martin's Press, $24.99, hardcover, 9781250014368
Food & Wine
Houghton Mifflin Harcourt, $17.99, hardcover, 9781118472163
American Lifestyle Publishing, $35, hardcover, 9781608000135
History
Doubleday, $28.95, hardcover, 9780767919401
Current Events & Issues
Penguin Press, $36, hardcover, 9781594202278
Reference & Writing

W.W. Norton, $25.95, hardcover, 9780393064421
Children's & Young Adult

Walden Pond/HarperCollins, $16.99, hardcover, 352p., ages 8-12, 9780062015075
Farrar, Straus & Giroux, $17.99, hardcover, 384p., ages 12-up, 9780374378615
Chicken House/Scholasti, $16.99, hardcover, 320p., ages 10-14, 9780545528399
--- SPECIAL ADVERTORIAL OFFERINGS ---

A Poem Is A Firefly

by Charles Ghigna, illus. by Michelle Hazelwood Hyde

Dear Reader,

Sharing the wonder and joy of poetry with children has been my life's work! What fun it was to finally create this book so others could share that joy with the children in their lives. Our lovable woodland characters answer the question, "What is poetry?" by reciting little poems to show that poems are everywhere! Our eager young readers are left wanting to create poems of their own by finding comparisons all around them!

Enjoy A Poem Is A Firefly -- and here's to poetry!

Charles Ghigna
https://www.charlesghigna.com

"A charming ode for beginning young bards." --Kirkus Reviews






PUBLISHER:
Schiffer Kids

PUB DATE:
Available Now

ISBN:
9781984896322

TYPE OF BOOK:
Children's Poetry/Picture Book

AGE RANGE:
5-8

PRICE:
$16.99
---