From the Shelf
Hotel Reads to Check Out Anytime
Wes Anderson has made no secret regarding author Stefan Zweig's influence on his film The Grand Budapest Hotel, noting The World of Yesterday could have been the film's working title and that "elements... were sort of stolen" from both Beware of Pity and The Post-Office Girl. Since I love the movie, reading more Zweig seems to be the logical next step.

This is all to say that hotels are an irresistible lure for me, whether I'm traveling or reading. Maybe there's something about the suspension of "normal" time (until checkout, at least) or the brief gatherings of strangers under the same roof that I find compelling. Possibilities, fictional and otherwise, seem endless.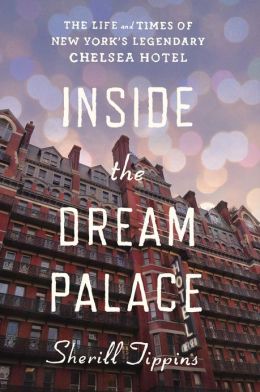 The book possibilities certainly are. My recent nonfiction favorites include the brilliant The Hotel on Place Vendome: Life, Death, and Betrayal at the Hotel Ritz in Paris by Tilar J. Mazzeo, Inside the Dream Palace: The Life and Times of New York's Legendary Chelsea Hotel by Sherill Tippins and the delightfully snarky yet informative Heads in Beds: A Reckless Memoir of Hotels, Hustles and So-Called Hospitality by Jacob Tomsky.

The best hotel novels often leave me with specific impressions, like the vertiginous opening of Ali Smith's Hotel World ("what a fall what a soar what a plummet"); the drained Hotel Trianon swimming pool in Graham Greene's The Comedians; the desolate beauty of an isolated geisha house in Yasunari Kawabata's Snow Country; the hushed conversations of mourners at an inn on the coast of Nova Scotia after a plane crash in Brad Kessler's Birds in Fall; the fearless girl who mails a copy of the new Civil Rights Act to anti-Semitic innkeepers in Elinor Lipman's The Inn at Lake Divine; and of course, the lethal ambience of the Overlook Hotel in Stephen King's The Shining.

Where to next? I think I may be checking into Frei Betto's Hotel Brasil (translated by Jethro Soutar) soon. --Robert Gray, contributing editor

In this Issue...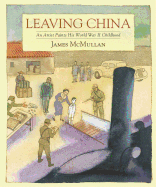 James McMullan's lushly illustrated memoir takes readers through his peripatetic childhood and the war that tore apart his family.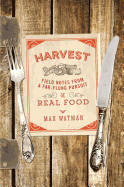 "A man accustomed to weirdly underwhelming victories" proves to be a wonderfully accomplished storyteller in this do-it-yourself-foodie memoir.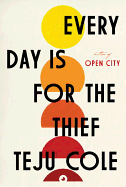 The characters in Cole's second novel resist, ignore, employ and even worship the pervasive corruption of their city.
Review by Subjects:
Fiction ⋅ Biography & Memoir ⋅ History ⋅ Essays & Criticism ⋅ Art & Photography ⋅ Children's & Young Adult

From Garden District Book Shop
Upcoming Events
Postponed - In-Person Event - Kent Babb: Across the River: Life, Death, and Football in an American City
09/16/2021 - 6:00PM
EVENT Postponed THE GARDEN DISTRICT BOOK SHOP HOSTS KENT BABB TO CELEBRATE HIS NEW RELEASE, ACROSS THE RIVER: LIFE, DEATH, AND FOOTBALL IN AN AMERICAN CITY The Garden District Book Shop is thrilled to host an evening celebrating the recent release of award-winning sportswriter Kent Babb's, Across the River: Life, Death, and Football in an American City. What is sure to be a classic work of sports journalism, Across the River is an investigation into the...
Book Candy
Famous Characters Based on Real People; Underrated Books
" 'Write what you know,' they say. So it makes sense that many authors take a good look around at friends and family when creating characters for their books," Mental Floss observed in highlighting "10 famous literary characters based on real people."

---
Jonathan Wood, author of No Hero, recommended "9 essential detective novels for people who don't read detective novels" for the Huffington Post.

---
Entertainment Weekly suggested the "10 most criminally underrated books."

---
"A Song of Ice and Fire and Venn diagrams." Buzzfeed offered "12 charts only Game of Thrones fans will understand."

---
Noting that "a lot of the best TV shows are based on books," io9 suggested "10 book series that would make excellent TV shows."
---
"Read Me! Please!: Book Titles Rewritten to Get More Clicks" were featured on the Millions, which wondered "what if books were whorishly titled, optimizing our search engines rather than our imaginations." Example: William Golding's You Thought Millennials Were Bad? Watch These British Kids Totally Nail Chaos Theory.

The Writer's Life
Cristina Mittermeier: Images That Matter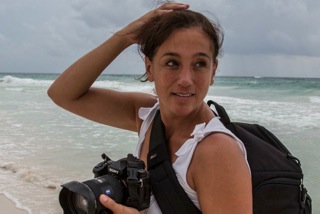 Cristina Mittermeier believes that the range of her experiences--growing up in Mexico, working as a marine biologist and biochemical engineer, raising children, writing, traveling the world, a career in conservation--all serve to enrich her photography. She says her path to the craft was "a happy accident" that has allowed her better to communicate all her "concerns, passions and hope for a better planet."
In Sublime Nature: Photographs That Awe and Inspire (see our review below), Mittermeier has collected photographs from around the world, images captured by a diverse selection of renowned nature and wildlife photographers. As founder and former president of the International League of Conservation Photographers and one of Sony's Artisans of Imagery (2008), she believes that photography can cross barriers, cultures and languages. She ardently advocates for its use as a means to encourage others to protect and preserve the beauty and natural resources of our planet.
You've spent the past 20 years focused on earthly conservation. Where does that passion come from?
I suppose it is self-preservation. Our planet's natural resources are the foundation of our livelihoods and conserving them is the only way to ensure a continued quality of life for all. Setting aside areas for protection and building boundaries that protect species and landscapes is the best tool we have. Photography informs and encourages both.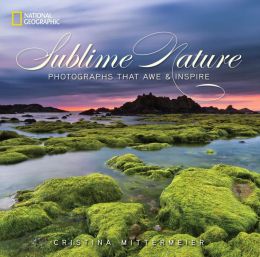 What inspired the four themes/sections of Sublime Nature: Awe, Grace, Joy, Peace?
For me, there is nothing more sublime than nature. The themes of the book evolved as I read the writings of the great philosopher Immanuel Kant, who, in 1764, made an attempt to record his thoughts on the mental state of an observer of nature in Observations on the Feeling of the Beautiful and Sublime. He held that the sublime was of three kinds: the noble, the splendid and the terrifying. These aspects gave base to the themes as the National Geographic team and I collaborated. We selected four great emotions of the human spirit as elicited by nature: hope, awe, joy and peace. We assigned a color to each emotion and then we set out to find images that fell into our themes and our color scheme in order to create a visual journey.
How did you choose which photographs to showcase in the book? What do you feel constitutes a truly great photograph?
When I look at an image, I always pose a question to myself: What happens to the character in the picture, be it a person or a bear, when nature and humanity collide? I want images to leave a door open for the viewer to articulate an answer. In the search for images for Sublime Nature, I further wondered: If I could visit that world (the image in a photograph) and be held there in its arms, could this image help me invite others inside, so that maybe they, too, could be held there? I wanted the photographs included in this book to beckon and inspire others the same way they have affected me.
In conservation photography, a great image is one that can tell a story. I am interested in images that better capture the full, complex reality of human beings and our surrounding universe.
In the end, the best images are a marriage of beautiful art, conservation substance and science. They often become iconic, and they always become a part of our collective psyche informing society about our natural world. The best images are a two-way street between me, the viewer and the rest of the world.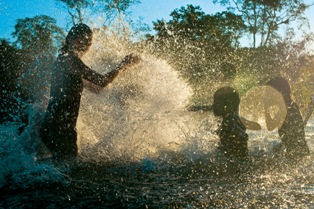 A late afternoon bath turns into a joyful water fight in the waters of the Iriri River, Brazil. (photo: Cristina Mittermeier)
Have innovations in photography changed your craft?
Innovations (like better sensors, faster frame rates, smarter cameras) can only help photographers become more effective. But the hard work of understanding our universe and aiming our cameras at subjects that really matter will not change with technology.
Which is your photographic medium of choice--digital or film?
I love digital. I did my time on film, and I cannot think of a single reason to ever shoot it again. It is the photographer, not the camera, not the film, that makes the picture.
How do you think images such as those in Sublime Nature can save the environment, animals and landscapes?
I hope that, at the end of my career, people know I made and presented images that mattered. Photographs, especially when they are iconic, make us pause, reflect and internalize information in a way like no other medium. Images require no translation, and photography has the power to inform, encourage and inspire the protection of our planet's natural and cultural treasures. --Kathleen Gerard, blogger at Reading Between the Lines

Book Reviews
Fiction

Random House, $23, hardcover, 9780812995787
Pintail, $16, paperback, 9780143187813
Biography & Memoir

Norton, $24.95, hardcover, 9780393063028
Gallery, $27, hardcover, 9781476748788
Holt, $32.50, hardcover, 9780805095906
History
North Atlantic Books, $12.95, paperback, 9781583947616
Doubleday, $27.95, hardcover, 9780385532433
Yale University Press, $35, hardcover, 9780300179088
Essays & Criticism
Trinity University Press, $14.95, hardcover, 9781595341877
Art & Photography
National Geographic Society, $35, hardcover, 9781426213014
Children's & Young Adult

Algonquin, $19.95, hardcover, 128p., ages 12-up, 9781616202552
Putnam, $16.99, hardcover, 32p., ages 3-5, 9780399257001
Sourcebooks, $15.99, hardcover, 224p., ages 10-up, 9781402288708
---