From the Shelf
Classroom Wasteland: Your Fall Semester Reading Assignment
You can feel it approaching like a late August thunderstorm, hear it in the voices of friends who teach and read it in their Facebook posts. Fall Term dread is palpable, even among great teachers who love their jobs. Yet it's also a circle of hell that has spawned some fine writing.

I love those moments when an instructor's internal thought process engages in a futile battle of wits with the students' blatantly external thought processes. Who am I talking about? People like Grady Tripp in Michael Chabon's Wonder Boys; William Henry Devereaux, Jr. in Richard Russo's Straight Man; Vladimir Nabokov's Timofey Pnin; the narrator of "Introduction to Poetry" by Billy Collins. Their patron saint is probably Simon Gray's Ben Butley.

In the spirit of the season, I offer two soon-to-be-published titles that are not really academic novels, yet feature epic classroom scenes: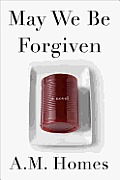 In May We Be Forgiven by A.M. Homes (Viking, Sept. 27), the life and extraordinary times of Richard Nixon scholar Harry Silver are deftly chronicled, including a Sisyphean quest--perhaps the least of his challenges in the story--that puts him in the discomforting, if entertaining, position of teaching Nixon to undergrads who "sit unblinking in a stupor."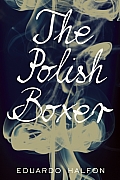 Eduardo Halfon's brilliant novel The Polish Boxer (Bellevue Literary Press, Oct. 2) opens with one of the best classroom scenes I've ever read. The professor, a Guatemalan writer and literature instructor, stands helplessly before row upon row of students looking "like lost sheep, yet smugly convinced that they weren't."

You have your assignment. Will these books be on the final exam, you ask? Yes, they will. --Robert Gray, contributing editor, Shelf Awareness

In this Issue...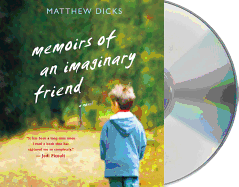 by Matthew Dicks; narrated by Matthew Brown
The story of an imaginary hero who touches reality through "the bravest boy in the world."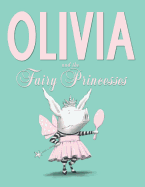 The porcine heroine, tired of her peers' preoccupation with pink princesses, searches for a calling she can fully embrace.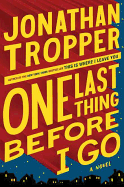 A sharp, funny novel of family relationships in extremis, by a master at illuminating the pathos and comedy of modern life.
Review by Subjects:
Fiction ⋅ Mystery & Thriller ⋅ Biography & Memoir ⋅ History ⋅ Audio ⋅ Children's & Young Adult

From Garden District Book Shop
Upcoming Events
Virtual/Zoom Event: Melissa Ginsburg in Conversation with Laura Lippman: The House Uptown
04/13/2021 - 6:00PM
Tuesday, April 13th 6:00-7:00PM CT Melissa Ginsburg in conversation with Laura Lippman, discussing her book, The House Uptown. This event is free, however a ticket is needed. Get Tickets Ava, 14 years old and totally on her own, has still not fully processed her mother's death when she finds herself on a train heading to New Orleans, going to stay with Lane, her grandmother whom she's never met. Lane is a well-known artist in the New Orleans art scene. She spends most of her...
Garden District Book Shop Book Club
04/14/2021 - 6:00PM
Join us for the discussion the second Wednesday of every month. New Members are always welcome. Purchase book in-store for a 20% discount. Beginning in June book club meetings will be virtual.
Virtual Happy Hour - Kelly Harris-DeBerry
04/16/2021 - 5:00PM
It's Happy Hour!! Join us as we celebrate National Poetry Month with poet Kelly Harris-DeBerry as we talk books, poetry, sound making, and more! The 2nd edition of Kelly's poetry book, Freedom Knows My Name will be available soon! Mix a drink and join us for this interactive live-streaming! This event will stream live on Facebook: https://www.facebook.com/GardenDistrictBookShop/ and YouTube: https://www.youtube.com/channel/UCE_bC6Cv_VnbDrqqN1OhnCw
Book Candy
Authors' Life Philosophies; Classic Covers; Reading Habits
"Life philosophies of famous authors." Buzzfeed highlighted the work of Evan Robertson, who "has taken his love of literature and simple yet engaging art and turned it into a group of posters featuring the words of famous authors."

---
After noting that they "try not to judge books by their covers--both proverbially and literally," Flavorwire highlighted the "first edition covers of 25 classic books."

---

Design Milk noted that Marica Vizzuso, designer of bookshelf tower and divider B-OK, wondered why "you place books in a conventional way when you can have both an amusing and aesthetically interesting alternative?"

---

"Who's reading what?" Mashable featured an infographic highlighting e-book data compiled by HipType, which "studied the DNA of a successful book as well as the reading habits of men and women, and found that women are 50% more likely to finish a book than men."

The Writer's Life
Ivan Doig: Montana, Apple Trees and a Typewriter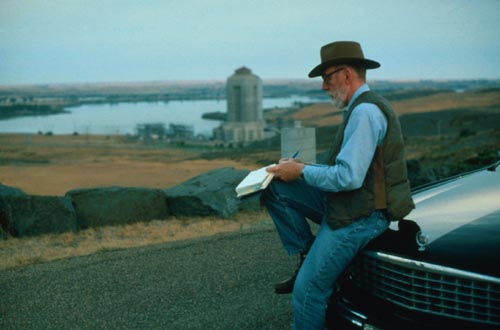 Although Ivan Doig has lived in Seattle for a very long time, he maintains that Montana is still the home of a piece of his soul. The vividness of his early life there has been forever imprinted on him, even though he left at age 23. He has been back several times through the years, usually on work and research related trips. Readers who have never been to Montana will certainly gain a real sense of it in Doig's writing; those who have will feel at home on the page. As Doig spins out his yarns, the stories take precedence and the landscape becomes important background.
In English Creek, Bucking the Sun and Eleventh Man, we met Tom Harry, the bartender with the black pompadour. In The Bartender's Tale (see our review below), he is the eponymous bartender, father of Rusty ("an accident between the sheets") and owner of the Medicine Lodge bar. Tom has brought six-year-old Rusty home to Gros Ventre from his sister's house in Arizona, where he was left when Tom's wife walked out. The real story begins the summer of 1960, when Rusty is 12.
How did you fit yourself so completely into the mind of a 12-year-old boy?
I wasn't much older than Rusty-- a freshman in high school--when I was living along the Rocky Mountain front, north of Great Falls, running sheep on a ranch, living with a family who ran a cafe much like the one in the book. That community of Dupuyer--close in feeling and geography to the setting in the book-- was part school, part ranch family and part town. Those memories are still available to me today. It was a strange mix of old timers, cafe folks and ranchers. One of the guys was an old trapper who made his living trapping in the Rockies.
Talk about your day, writing and not writing.
I get up before dawn, following the rancher's life, start writing by six, then Carol (my wife) and I take a walk around 7 a.m. We walk for 45 minutes and I count on a word or an idea coming to me as we climb a big hill toward home. Something that will relate to, expand on or improve what I've started that day. I look over all parts of speech, starts of paragraphs, chapter beginnings, trying to hear the characters' voices and the rest of the story. Then I sit down and write until lunch. I produce roughly two triple-spaced pages of typescript a day--400 to 500 words. And, yes, I work on a Royal manual typewriter, something I have hidden occasionally, lest I be taken for a Luddite. (I sent an article about that off to my editor in New York just this morning.) I also use a computer and a yellow pad, especially when I am roughing out dialogue. I am an equal opportunity writer, making good use of all implements available.
Fourteen years ago, when Carol retired, we bought this big house on a bluff. She runs the house, fields e-mails and is still my first reader. She is my amanuensis par excellence. It is a lot of house, a lot of property and a lot of gardening and yard work. That takes up much of our time. We have a vegetable garden, fruit, apple trees. I learned grafting because our apple trees produced inedible and unidentifiable fruit. I grafted on four edible species. Much improved.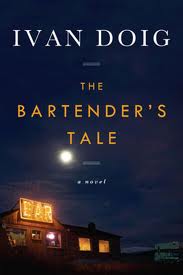 Did you always know that this was what you would do?
It struck me early on that the life of the lesser sharecropper was a fight against heavy weather odds. My Dad urged me to get an education, not to do outside work. He joined forces with my grandmother after my mother's death; he as a general ranch hand and she as a cook, so we all knew the stories of the sheepherders who work, come to town, get drunk, go out and work again. I got a Bachelor's degree in Journalism and then a Master's degree and have written ever since.
One of the irresistible parts of The Bartender's Tale is the schtick that Rusty and his friend Zoe do: "bits" that they concoct out of thin air, dialogue made up out of whole cloth. Where did this theater knowledge come from?
Well, I hung out with some theater types in college, and Book-It Repertory Theatre in Seattle did Prairie Nocturne, which brought us in touch with more theater folks. It is an interest of ours.
As a writer of realism, you seldom use symbolism, yet right at the beginning of the book is the marvelous symbol of Igdrasil, the Norse Tree of Life. Where did that come from?
It came immediately to mind because it gives the feel of the country filled with giant cottonwoods around Choteau--Gros Ventre in the book. A 99-year-old friend of ours told me the story of Igdrasil more than 20 years ago. Carol took her a copy of the book just today.
Can't let you off the hook about some offhand references to Charlie Russell and fly fishing--two Montana icons that you seem not to take too seriously.
We fished to eat; lots of worms and chicken guts in the mix, not much romance. Indeed, Charlie Russell is the iconic Montana painter.
What's next?
Next up is a sequel to Work Song, set in Butte in 1921. If all is in proper alignment, it could be out next year. --Valerie Ryan, Cannon Beach Book Company, Ore.

Inklings
What Is Wrong with Writers?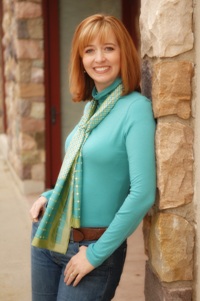 Shannon Hale received a Newbery Honor citation for Princess Academy, which introduced Miri and her classmates. Since then, she's written the graphic novel Rapunzel's Revenge with her husband, Dean Hale, illustrated by Nathan Hale (no relation), and its companion, Calamity Jack, as well as Austenland for adults. Her new book is Princess Academy: Palace of Stone.
What is wrong with writers that we're motivated by difficulty? Offer us a gentle meadow of a story and we shrug it off. Present a sticky swamp during hurricane season, and we're first in line.
In 2004, after finishing my middle grade novel Princess Academy, I considered writing a sequel. The characters and world had become like a second home, and I was excited to revisit once I'd finished two other books that were more shouty in my head.
And then Princess Academy won an award. Aided by the shiny silver sticker on its cover, the book reached more people than I could ever have hoped for. My inbox stacked up with e-mails detailing what readers imagined would happen next. I realized that Princess Academy didn't belong to me anymore. It belonged to its readers. They were already continuing Miri's story, and I was hesitant to interfere.
Several years and books later, I was still thinking about Miri. A new layer of her story popped into my head--not a happy ending, not an exciting climax, but a tricky complication. And like that, my resolve weakened. I'd been longing to return to Danland, and I needed to see how on earth Miri was going to get out of the mess I was itching to create for her.
I'd like to say I wrote Palace of Stone for the kids who requested it. Apparently I'm far too selfish. I wanted What Happens Next for me. And my internal reader--that demanding being who I write everything for--is finally content. For now. Because while writing the second book, a third story began taking shape in my head. It's napping now. Perhaps another terrifically complicated, swampy hurricane of an idea will wake it up. --Shannon Hale
Book Reviews
Fiction

Dutton, $26.95, hardcover, 9780525952367
Simon & Schuster, $26, hardcover, 9781451642964
Riverhead, $27.95, hardcover, 9781594487354
Knopf, $25.95, hardcover, 9780307599582
Mystery & Thriller
St. Martin's Press, $25.99, hardcover, 9780312625511
Dark Passage, $13.95, paperback, 9781891241321
Knopf, $26.95, hardcover, 9780307700131
Biography & Memoir
Little Brown, $25.99, hardcover, 9780316199841
History
Holt, $32, hardcover, 9780805091847
Audio

Macmillan Audio, $39.99, unabridged, 8 CDs; 9hrs, 9781427225887
Children's & Young Adult

Atheneum, $17.99, hardcover, 40p., ages 3-7, 9781442450271
Feiwel & Friends, $16.99, hardcover, 240p., ages 12-up, 9780312650100
--- SPECIAL ADVERTORIAL OFFERINGS ---

A Poem Is A Firefly

by Charles Ghigna, illus. by Michelle Hazelwood Hyde

Dear Reader,

Sharing the wonder and joy of poetry with children has been my life's work! What fun it was to finally create this book so others could share that joy with the children in their lives. Our lovable woodland characters answer the question, "What is poetry?" by reciting little poems to show that poems are everywhere! Our eager young readers are left wanting to create poems of their own by finding comparisons all around them!

Enjoy A Poem Is A Firefly -- and here's to poetry!

Charles Ghigna
https://www.charlesghigna.com

"A charming ode for beginning young bards." --Kirkus Reviews






PUBLISHER:
Schiffer Kids

PUB DATE:
Available Now

ISBN:
9781984896322

TYPE OF BOOK:
Children's Poetry/Picture Book

AGE RANGE:
5-8

PRICE:
$16.99
---