From the Shelf
Hands-on Reading
It's hard not to fall for an interactive board book. Pop-ups, lift-the-flaps, die-cuts... all demand a reader pick the book up and play. How could you not? Here are some recently published board books for pre-readers to eight-year-olds that are near impossible to resist.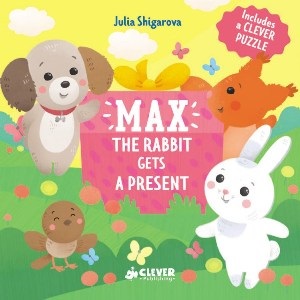 Julia Shigarova's Max the Rabbit Gets a Present (Clever Publishing, $7.99, ages 0-3) features a group of animal friends discussing what gift they should give to friend Max. A ball? A nutcracker? Music? With each new page turn, a die-cut puzzle piece is revealed. By the time the last page is reached, the reader has four puzzle pieces to arrange and place in a ready-made spot. When put together, the illustration shows Max accepting his (delicious) gift.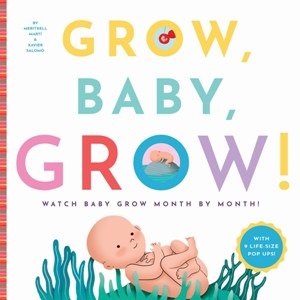 For readers ages five to seven, Meritxell Marti and Xavier Salomo have created Grow, Baby, Grow! (Familius, $24.99), a pop-up book that allows readers to engage with a life-size baby that grows month by month. Starting as a small as a pearl inside an oyster, "you" grow to the size of a cherry, a "little frog," a "starfish surrounded by coral," until eventually, "in the ninth month, you [take] your last naps" and--now actual-newborn size--wait "for the exciting day of your birth."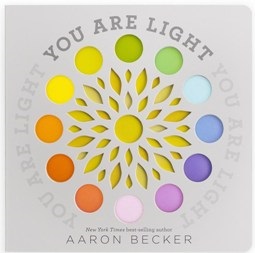 Aaron Becker's You Are Light (Candlewick Studio, $15.99) uses die-cuts and transparent paper to give readers ages four to eight an interactive experience with the concept of light. With each page turn, the colored paper in the different die-cuts matches the spare text, for example, blue "sips the sea/ to make the rain." And, when the book is held up to a light, the circle of rainbow colors shines, allowing readers to make colorful patterns or simply enjoy the pretty effect. --Siân Gaetano, children's and YA editor, Shelf Awareness

In this Issue...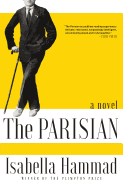 A big, bold love story nestled within a powerful drama about the centuries-old Palestinian struggle for independence.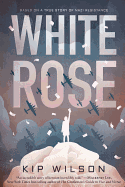 Kip Wilson's YA verse debut tells the story of Sophie Scholl, a young German student who was part of the anti-Nazi White Rose movement during World War II.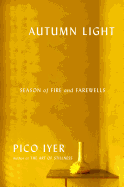 Pico Iyer's memoir marries beauty and sadness in describing his life in Japan one autumn.
Review by Subjects:
Fiction ⋅ Biography & Memoir ⋅ Psychology & Self-Help ⋅ Science ⋅ Travel Literature ⋅ Pets ⋅ Children's & Young Adult

From Garden District Book Shop
Upcoming Events
Sarah M. Broom in Conversation with Maurice Carlos Ruffin: The Yellow House
08/28/2019 - 6:00PM
Wednesday, August 28th 6-7:30PM In 1961, Sarah M. Broom's mother Ivory Mae bought a shotgun house in the then-promising neighborhood of New Orleans East and built her world inside of it. It was the height of the Space Race and the neighborhood was home to a major NASA plant―the postwar optimism seemed assured. Widowed, Ivory Mae remarried Sarah's father Simon Broom; their combined family would eventually number twelve children. But after Simon died, six months after Sarah's birth, the Yellow...
Timothy Faust in Conversation with Nathan J. Robinson: Health Justice Now: Single Payer and What Comes Next
08/30/2019 - 6:00PM
Friday, August 30th 6-7:30PM Single payer is the tool—health justice is the goal! Single payer healthcare is not complicated: the government pays for all care for all people. It's cheaper than our current model, and most Americans (and their doctors) already want it. So what's the deal with our current healthcare system, and why don't we have something better? In Health Justice Now, Timothy Faust explains what single payer is, why we don't yet have it, and how it can be won. He...
Book Candy
Fictional Takes on Real Lives

Great Reads
Rediscover: The Hunchback of Notre-Dame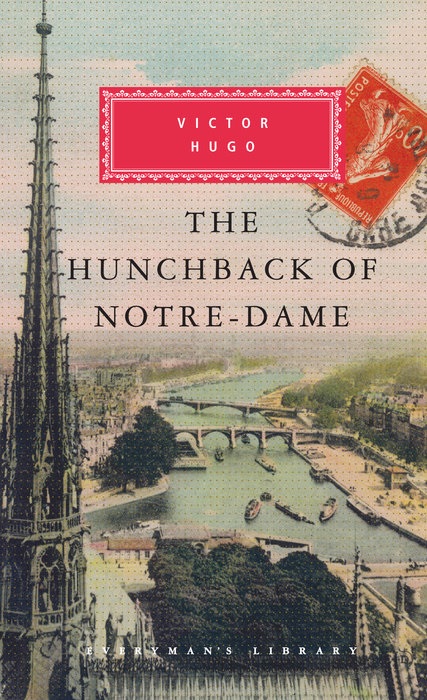 After the tragic fire Monday in Paris, sales of Victor Hugo's The Hunchback of Notre-Dame have gone through the roof. Hugo began writing the book in 1829, in large part to highlight the value of gothic architecture around Paris and in Notre Dame in particular. Many other such structures had been demolished and replaced. The cathedral was in disrepair, and suffered from unwise stewardship decisions, such as replacing several medieval stained glass panels with white glass to let in more light. These concerns show why The Hunchback of Notre-Dame includes so many lengthy descriptive passages that otherwise seem to exceed narrative necessity.

The Hunchback of Notre-Dame takes place in 1482, during the reign of Louis XI. The titular hunchback, Quasimodo, lives in Notre Dame as a ward of Archdeacon Claude Frollo. When Frollo lusts after a young gypsy dancer named Esmeralda, he orders Quasimodo to capture her. He fails, but falls in love with Esmeralda when she helps him through a torturous ordeal. The ending is far more grim than Disney's 1996 animated adaptation. --Tobias Mutter

The Writer's Life
Lori Gottlieb: Behind the Curtain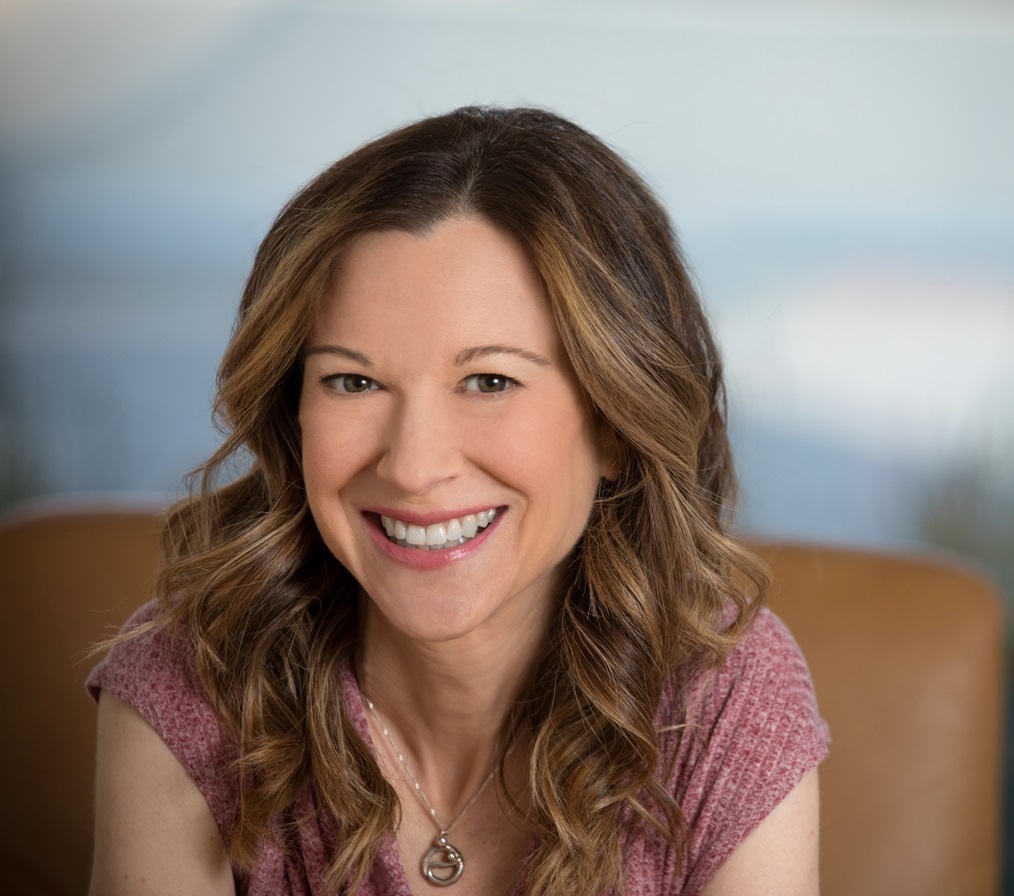 photo: Shlomit Levy Bard
Lori Gottliebis a psychotherapist and author who writes the Atlantic's weekly "Dear Therapist" advice column. She also writes regularly for the New York Times, and has appeared on the Today Show, Good Morning America, CBS This Morning, CNN and NPR. Her new book is Maybe You Should Talk to Someone: A Therapist, Her Therapist, and Our Lives Revealed (reviewed below), out now from Houghton Mifflin Harcourt.
What inspiration drove this project?
It's a book about the human condition. I tried to bring people behind the curtain to let them see what others are going through. The questions people bring to us are the questions we have about our own lives. Whatever the presenting problem is, we're really asking about love, meaning, acceptance, shame and mortality, and all these deep issues we try to make sense of if we're living an examined life.
For people who are afraid of therapy, I hope it demystifies what we're doing and thinking. There's no big secret to what we do.
As a therapist, was it daunting to disclose so much about your personal life?
Writing about other people's struggles without humanizing myself felt sterile. When people come to talk to a therapist, of course they don't want to hear about their therapist's personal life, nor would it be helpful. Still, it's important to remember that we're more the same than we are different. One of the best qualities a therapist brings to the table is the fact that we know what it's like to be a person in the world. Without that, you can have all the training and experience, but you wouldn't be as effective and able to help people.
When I turned in my first draft, my editor said, "I think you were very careful." I had to grapple with the fact that I couldn't be more careful with myself than with my patients. You are vulnerable when you put yourself out there, but you're doubly so when people in your professional life don't know a lot about you. I wanted to take away that stigma. I wanted people to know that there's nothing shameful about going through the daily problems of living. Everyone has things that are challenging for them. Whether they're big or small, or current or past, it's a common denominator that we all share.
What did you take away from your experience with your therapist Wendell?
He helped me to see how to bring more of myself into the room because he brought so much of himself into the room. He brought his personality and his humanity. It helped me to be much more relational in the room with my patients. The idea of the therapist as this blank slate? That's not the way I wanted to be.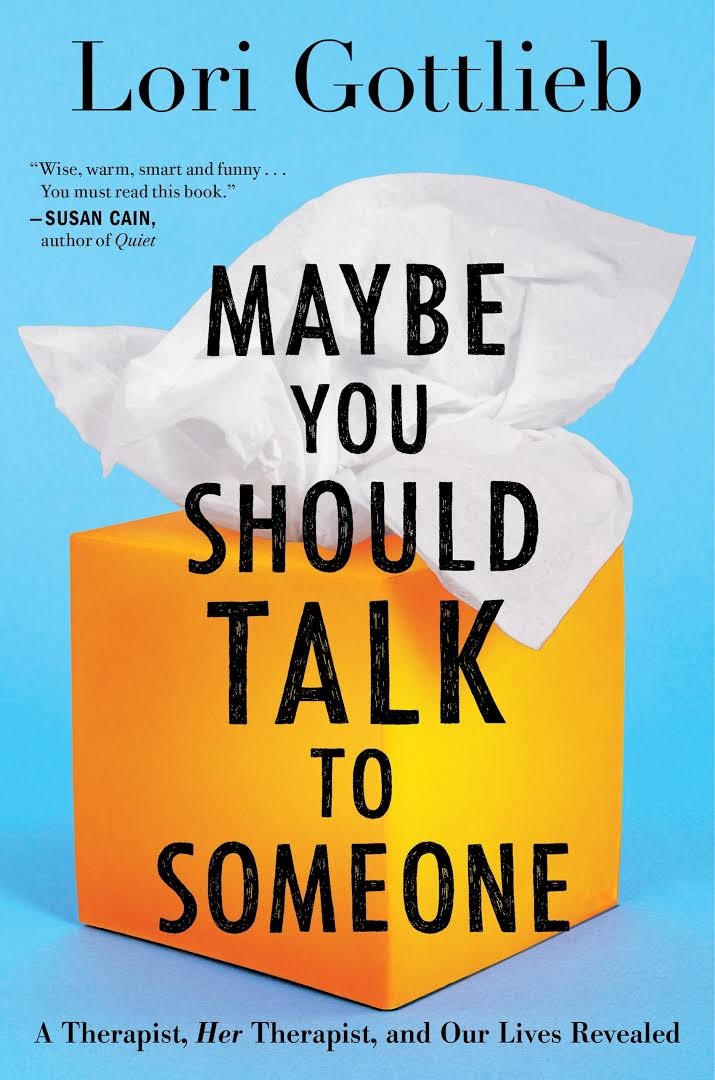 Do you believe that the planned television show based on Maybe You Should Talk to Someone will portray therapy and therapists accurately?
That's a prerequisite. I have a lot of input and am a consultant and producer. Some people said, "It's Grey's Anatomy in a therapy office," and I'm like, "Hmm, I wish we had that much fun!" The spirit of the stories and the emotional resonance are things that happen to therapists in general. It's a great world, a fascinating world. What other profession is there where you're at the core of the human experience every day?
The show treats talking about our lives as a normal thing to do. It takes away the secrecy and shame and the Facebook and Twitter of it all--the curated version we put out there under the guise of sharing personal information.
You also write the column "Dear Therapist" for the Atlantic. How is it different from in-person therapy?
In my column, I try not to offer therapy or advice. It's more like, "I want you to look at this the way a therapist would, because it will help you find an answer more easily than the story you're telling yourself." The job of a therapist and the job of a writer are very similar. You help people edit stories. In therapy, people have the idea that their version of the story is accurate, but usually there are holes in the story. I help them to look at who the major and minor characters are. Is the protagonist going in circles or moving forward? Are there other perspectives? Showing people how to be more flexible with their stories is a universal way of helping them, especially with stories they've carried for a long time that aren't helping, like "I'm unlovable" or "I'm not good enough."
What did you learn from the experiences in your memoir that you most want to share with readers?
What I found most surprising about being a therapist and patient was how hard it is to change. Even though it can be good and positive, there's also loss involved. If we change, we have to go into unfamiliar territory, and that can be incredibly anxiety-provoking. Being aware that change is scary normalizes it, and talking to people so you realize you're not so different lets you know it's normal to be scared. Especially today, we think, "I have to have it all together, I have to appear as though I know what I'm doing." That takes away something normal about being a person, and I hope we can all let ourselves off the hook a little bit. I hope the book does that. I hope people see themselves in it and can see themselves more clearly. Even though it's not about happiness, I hope it will make people happier. --Jaclyn Fulwood
Book Reviews
Fiction

Grove Press, $27, hardcover, 576p., 9780802129437
Hogarth, $26, hardcover, 288p., 9781984822178
Knopf, $26.95, hardcover, 336p., 9780385352680
HQN, $26.99, hardcover, 384p., 9781335013422
Biography & Memoir
Scribe US, $30, hardcover, 480p., 9781947534780
Psychology & Self-Help
Houghton Mifflin Harcourt, $28, hardcover, 432p., 9781328662057
Ballantine, $27, hardcover, 304p., 9781984817068
Science
Pegasus, $27.95, hardcover, 240p., 9781643130262
Travel Literature

Knopf, $25.95, hardcover, 256p., 9780451493934
Pets
ECW Press, $16, paperback, 200p., 9781770414808
Children's & Young Adult

Versify/Houghton Mifflin Harcourt, $17.99, hardcover, 368p., ages 12-up, 9781328594433
Candlewick, $18.99, hardcover, 32p., ages 3-8, 9780763677534
Algonquin, $17.95, hardcover, 320p., ages 14-up, 9781616208608

The Last Widow
(Will Trent #9)
by Karin Slaughter
isbn:

9780062858085


William Morrow
August 20, 2019



an exclusive interview with bestselling author Karin Slaughter

When you finished writing THE KEPT WOMAN, you actually had the idea for THE LAST WIDOW—but you didn't start writing it until a couple of years later. Why the hesitation?
"I had to give myself time to think about it. I wrote two books in between, and it was just my way of kind of wrapping my head around the subject matter. It took quite a bit of research to write this novel. I'm not one of these 'ripped from the headlines' kind of writers, so it was really difficult for me to decide whether or not this was the book to write because I thought, you know, this stuff is becoming very topical. Keep in mind I wrote it basically a year ago. I finally just decided, well, that's not something I can think about. I just need to write the book that I want to write."

ALSO FEATURED ON THE
the big THRILL…
| | | | | |
| --- | --- | --- | --- | --- |
| | | | | |
THE LAKE OF LEARNING by STEVE BERRY and M.J. ROSE: There's always a bit of magic at play when two genre superstars come together. But in the case of international bestselling authors Steve Berry and M. J. Rose, the magic comes not always as a storytelling tool, but in the collaboration itself. Find out more here.
MIAMI MIDNIGHT by ALEX SEGURA: Since its debut in 2013 with Silent City, Alex Segura's Pete Fernandez series has become one of modern noir's most buzzed-about properties. The fifth—and final—entry, MIAMI MIDNIGHT is due out this month. Read more at The Big Thrill.
TRUE BELIEVER by JACK CARR: TRUE BELIEVER, the follow-up novel to Jack Carr's award-nominated debut, Terminal List, begins with the protagonist, James Reece, at his lowest—he's lost his family, his health, his county. Everything. How does he carry on? Find out more here.
PRIDE, PREJUDICE AND POISON by ELIZABETH BLAKE: Elizabeth Blake launches the reader straight into an encounter with a group of strong-minded characters that make up the local branch of the Jane Austen society—and that's where things get a bit chaotic. Visit The Big Thrill for more.
OLD BONES by DOUGLAS PRESTON and LINCOLN CHILD: In a curious mix, OLD BONES, the new novel from bestselling writing partners Preston and Child, combines the excitement of a treasure hunt adventure with the mystery, and almost police procedural, of a mind-boggling FBI case. Read more here.