From Garden District Book Shop
An Evening With Pulitzer Prize winning author Colson Whitehead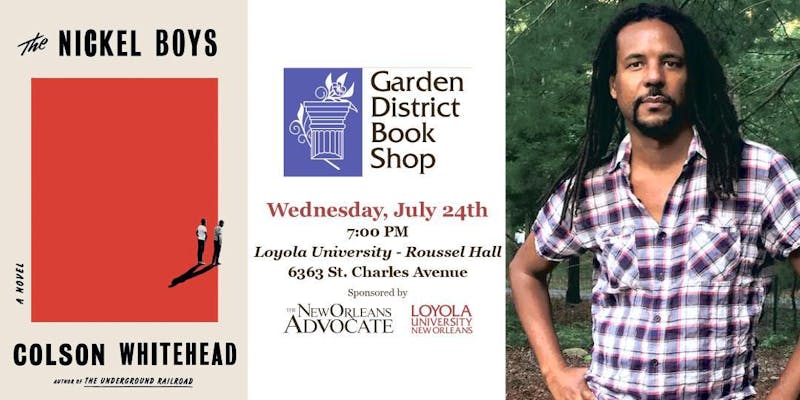 The Garden District Book Shop & New Orleans Advocate are proud to host author Colson Whitehead at Loyola University.
Join us July 24th at 7pm as Colson Whitehead discusses his new book, Nickel Boys.
In this bravura follow-up to the Pulitzer Prize and National Book Award-winning #1 New York Times bestseller The Underground Railroad, Colson Whitehead brilliantly dramatizes another strand of American history through the story of two boys sentenced to a hellish reform school in Jim Crow-era Florida.
Tickets are required for this event.
Each ticket includes a signs copy of Nickel Boys.

In this Issue...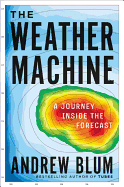 The Weather Machine examines the human, technological and political elements that make weather prediction possible.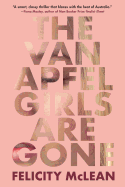 The unexplained disappearance of three young Australian sisters still haunts their friends and neighbors more than 20 years later.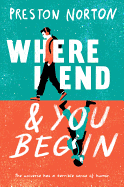 Two teens suddenly swap bodies, wreaking havoc on romantic relationships, friendships and identities in this fabulous contemporary YA version of Freaky Friday.
Review by Subjects:
Fiction ⋅ Mystery & Thriller ⋅ Science Fiction & Fantasy ⋅ Romance ⋅ Social Science ⋅ Nature & Environment ⋅ Children's & Young Adult

From Garden District Book Shop
Upcoming Events
Garden District Book Shop & NOCHI present an evening with Sean Brock - Ticketed Event
10/17/2019 - 7:00PM
Click Here To Purchase Your Ticket! Thursday, October 17th 7-9PM Join us for an evening with Chef Sean Brock as he is in conversation with Chef Kelly Fields, discussing his book, South: Essential Recipes and New Explorations....
Jax Frey: The Gumbeaux Sistahs
10/19/2019 - 1:00PM
Saturday, October 19th 1-3PM "A bowl of my Mama's gumbo and a little wine will solve any problem you've got," said every single Gumbeaux Sistah ever. Five Southern women wage a hilarious war against the ageism problems of one of their deep-in-trouble sisters using their improbable friendships, evil-genius schemes, oh-so-numerous cocktails, and a shared passion for good gumbo.When southern artist, Judith Lafferty, loses her long-time, prestigious museum job to a much younger man, she finds...
Book Candy
First-Year Sales of Famous Books

Great Reads
Rediscover: Independence Day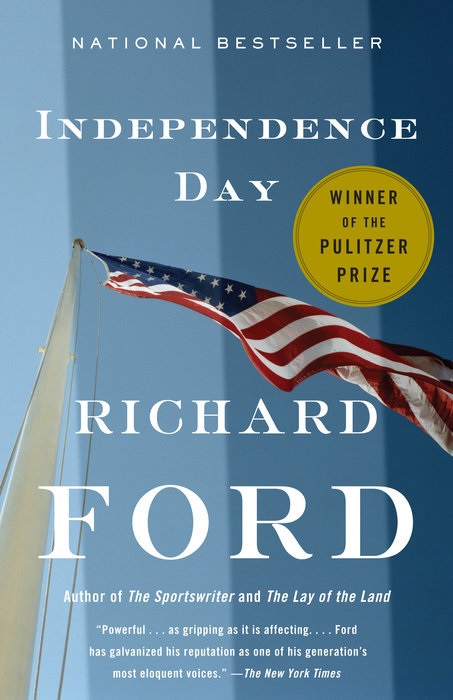 Richard Ford's Independence Day (1995) is the second of four novels featuring Frank Bascombe. The first, The Sportswriter (1986), introduces Bascombe as a failed novelist turned sportswriter struggling with the death of his son. Independence Day finds Bascombe working as a real estate agent in New Jersey. Over the course of the titular holiday weekend, he encounters problematic clients, several of his tenants, his lover, his ex-wife and his troubled son, whom he takes on a road trip to the basketball and baseball halls of fame. In The Lay of the Land (2006), Bascombe owns his own real estate company and is expecting his extended family for a Thanksgiving visit. Over the course of three days, he has negative experiences with his son, his ex-wife, an acquaintance he assaults and teenagers who shoot him in the chest. The final Bascombe book, Let Me Be Frank with You (2014), weaves together four narratives about Frank's life in post-Hurricane Sandy New Jersey. In 1996, Independence Day became the first novel to win the Pulitzer Prize and PEN/Faulkner Award for Fiction in the same year. (It also enjoyed a spike in sales from the release of the unrelated Roland Emmerich action movie.) Independence Day is available from Vintage ($16.95, 9780679735182). --Tobias Mutter

The Writer's Life
Reading with... Darcey Steinke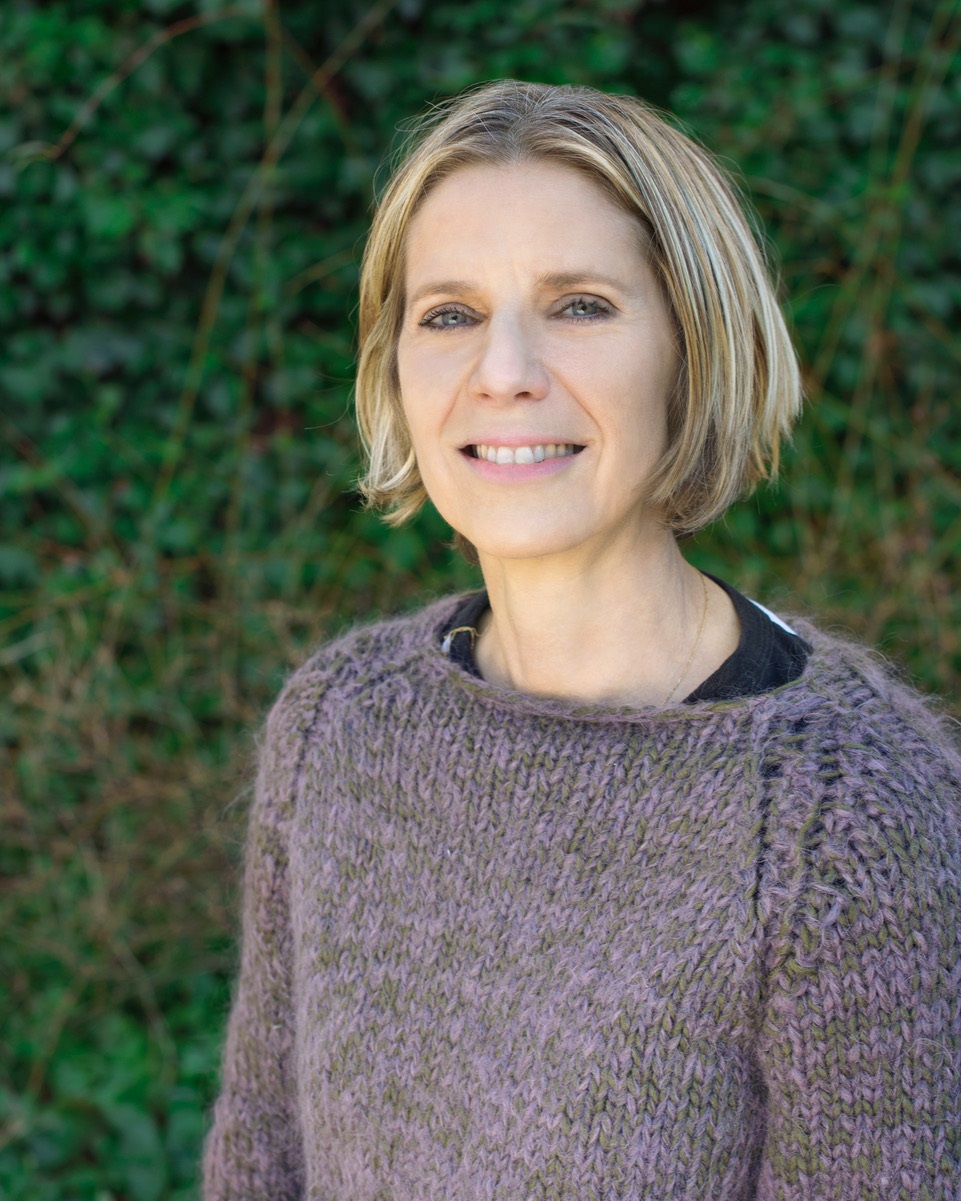 photo: Niqui Carter
Darcey Steinke is the author of the New York Times Notable memoir Easter Everywhere, as well as five novels, including Suicide Blonde. With Rick Moody, she edited Joyful Noise: The New Testament Revisited. She has been both a Henry Hoyns and a Stegner Fellow; Writer-in-Residence at the University of Mississippi; and has taught at the Columbia University School of the Arts, Barnard, the American University of Paris and Princeton. Flash Count Diary: Menopause and the Vindication of Natural Life (Sarah Crichton/FSG, $26) is her most recent book.
On your nightstand now:
I have trouble getting to sleep. It's not unusual for me to turn the light off and then have to turn it back on again many times before I can actually sleep. I like to have a wide selection of books available to me in the dark hours. At the moment there are two poetry books, Maggie Nelson's Something Bright, Then Holes and Dance Dance Revolution by Cathy Park Hong. Both are amazing. Nelson for her ability to show how a soul comes awake, and the way Hong makes up words and meaning is thrilling. Also, a book of music criticism: They Can't Kill Us Until They Kill Us by Hanif Abdurraqib. This book is so alive! And Barry Hannah's collected short stories Long, Last, Happy. Hannah is a master. And this terrific novel The Man Who Walked Away by Maud Casey, about the beginnings of psychiatry in the 19th century.
Favorite book when you were a child:
As a small child I loved this picture book called Play with Me by Marie Hall Ets. It is about a girl who wants a playmate and in her desperation chases after all matter of animals. Eventually she learns to sit very still, and all the animals come up to her. It had a very zen message, one I was able to get even as a child. I also loved Edward Eager's Half Magic, I was so taken with those books that I would Xerox the illustrations and hang them over my bed. There was a young biography series I loved as well: Young Jefferson, Young Abigail Adams.
Your top five authors:
Simone de Beauvoir is my favorite at the moment. The way she did philosophy to the female body in the Second Sex is still so thrilling. And I love the way she writes about people and ideas. Flannery O'Connor, Emily Brontë, the South African writer Bessie Head and Kafka. I like writers who write in a raw and precise way.
Book you've faked reading:
All of David Foster Wallace except the essays, which I adore.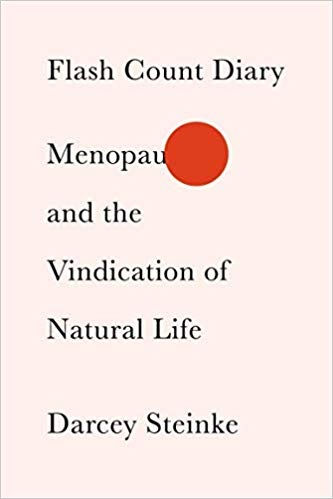 Book you're an evangelist for:
The Vegetarian by Han Kang. This book won the Man Booker International Prize a few years ago. It is a masterpiece. It reframes female "hysteria" and is also about pantheism. When I go to my local bookstore, Greenlight in Brooklyn, and buy yet another copy for a gift, they always very nicely tell me I already have 10!
Book you've bought for the cover:
I can't really think of any book I bought for the cover alone.
Book you hid from your parents:
In the late 1970s, in the basement of a split level, my friend Alicia and I read The Happy Hooker by Xaviera Hollander to each other with wonder and confusion.
Book that changed your life:
There were so many! I think Sylvia Plath's The Bell Jar really got to me in my early 20s, as it showed both the life I wanted, a young writer in NYC, and the depression that I was also becoming familiar with. I also read Melville's Bartleby, the Scrivener in high school and I remember that shook me up--the humanity in it, the sadness. I have always wanted books that are honest about the dark parts of life.
Favorite line from a book:
"When you write you do not know whether you are obeying the moment or eternity." --Edmond Jabès
Five books you'll never part with:
The Collected Short Stories of Franz Kafka, The Second Sex by Simone de Beauvoir, Wuthering Heights by Emily Brontë, Robert Richardson's biographies of William James and Emerson.
Book you most want to read again for the first time:
I really love to read books over and over again, it never bothers me that I know what's coming. I like the sensation. I often reread Nathanael West's The Day of the Locust, and when I get to familiar parts, I can remember where I was when I read them last time and the time before that, it's almost like a time machine, a tiny repository of all the other times I read it. The book and I are in deep relation.

Book Reviews
Fiction
Amistad, $16.99, paperback, 304p., 9780062329899
Ecco, $26.99, hardcover, 304p., 9780062490698
Mystery & Thriller

Algonquin, $15.95, paperback, 304p., 9781616209643
Little, Brown, $28, hardcover, 400p., 9780316523097
Houghton Mifflin, $27, hardcover, 256p., 9780544987296
Science Fiction & Fantasy
Sourcebooks Casablanca, $7.99, mass market paperbound, 448p., 9781492689386
Romance
Forever, $7.99, mass market paperbound, 432p., 9781538746332
Social Science
Melville House, $15.99, paperback, 128p., 9781612197890
Nature & Environment

Ecco, $25.99, hardcover, 224p., 9780062368614
Little, Brown, $28, hardcover, 320p., 9780316551311
Children's & Young Adult

Disney-Hyperion, $17.99, hardcover, 416p., ages 14-up, 9781484798355
Neal Porter/Holiday House, $18.99, hardcover, 32p., ages 3-6, 9780823442836
Tundra Books, $17.99, hardcover, 48p., ages 3-7, 9780735265752
--- SPECIAL ADVERTORIAL OFFERINGS ---

Torpedoed:

The True Story of the World War II Sinking of "The Children's Ship"

by Deborah Heiligman

Dear Reader,

Sometimes a story grabs you and doesn't let go. That's what happened with Torpedoed: The True Story of the World War II Sinking of "The Children's Ship." My editor showed me a photograph of a custom-made child's life jacket, bright red. It belonged to an eleven-year-old boy whose parents sent him on a ship from England to Canada during World War II. The story of that ship is a tragedy, but it is also filled with heroism, bravery, community, and adventure. And it's all true.

Here are some glimpses: Two teenage girls cling to an overturned lifeboat in freezing cold water for 19 hours. A young man dives into the water over and over again to save children. On a lifeboat lost at sea for eight days, a teacher tries desperately to keep six boys alive—by telling them adventure stories.

Email deborah@deborahheiligman.com to win a copy.

Thanks!
Deborah
www.deborahheiligman.com






PUBLISHER:
Henry Holt and Co. Books for Young Readers/MCPG

PUB DATE:
October 8, 2019

ISBN:
9781627795548

TYPE OF BOOK:
Middle-Grade Nonfiction

AGE RANGE:
10-14

PRICE:
$19.99
Ricochet

by Kathryn Berla

Dear Reader,

I don't remember a time when the possibility of parallel universes hasn't fascinated me. Who hasn't thought about the "what ifs" in life that lead us to our current moment? Who hasn't pondered where a different choice may have led?

Science says it's possible and our imaginations explore the ways in which it could happen. I tried to integrate both science and imagination into this story of one girl…four starkly different versions of her life…and the ultimate standoff when each version must overcome her fears in the face of evil in order to triumph and find happiness.

"Spellbinding, and spectacular are the only words I have for this book." (Adrianna, NetGalley reviewer)

"..surprisingly new at every page and explored some ideas that I have not seen in other novels." (Traci, NetGalley reviewer)

"…a totally amazing read." (Rubayet, NetGalley reviewer)

I'm giving away five signed copies of Ricochet, picked from random entries. To enter, please email me at berlabooks@gmail.com.

Thank you for reading!
Kathryn Berla
www.kathrynberlabooks.com






PUBLISHER:
Flux/North Star Editions

PUB DATE:
October 8, 2019

ISBN:
9781635830408

TYPE OF BOOK:
Young Adult Science Fiction

AGE RANGE:
13+

PRICE:
$11.99