From the Shelf
A Year of Reading Women
Even before the pandemic sent me indoors last year, I had made a commitment to read only books written by women. With suddenly more time to focus on the TBR (To Be Read) pile that was teetering on the coffee table, I launched in, removed half of the pile and focused in on some neglected classics.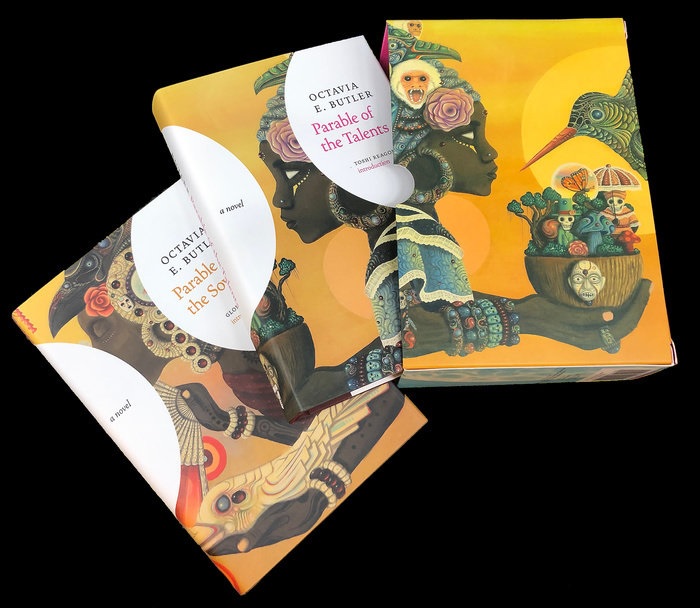 I wasn't alone in thinking that 2020 was the right year for Octavia Butler's compassionately prescient duology Parable of the Sower and Parable of the Talents (Seven Stories Press, boxed set, $50). The political and environmental crises Butler's bold young visionary leads us through felt more familiar than ever, even while the richly imagined dystopian tale of survival and community transported me out of my daily doomscrolling.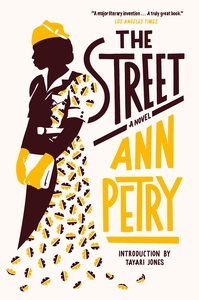 The lush prose of Ann Petry's tangibly atmospheric novel The Street (Mariner, $16) also kept me grounded in our reality while immersing me in another time. Following Lutie's journey as she tries to raise herself up from every blow she takes as a Black single mother in 1940s Harlem was absolutely magnetic.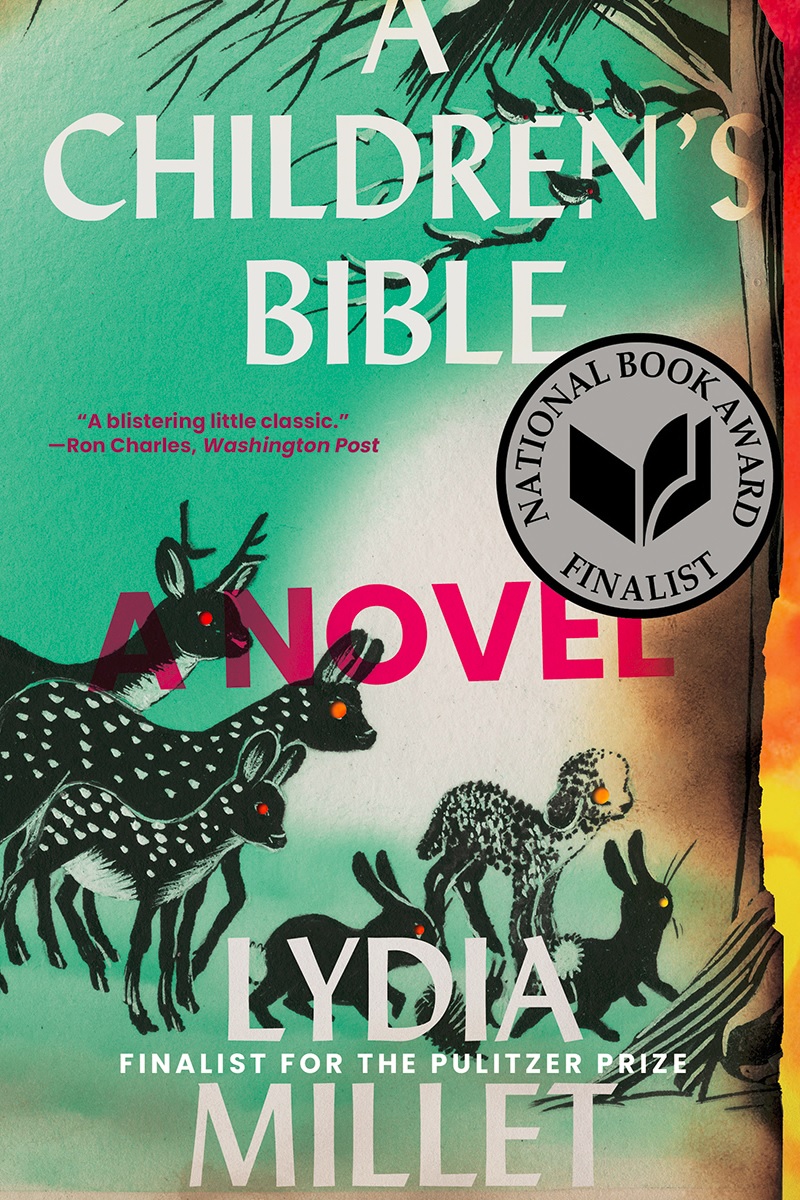 I did stray from my pre-existing pile of books to join curbside pickup queues at my local indie bookstore and keep up with new releases. But even as I dove into the compelling climate anxiety escapade of Lydia Millet's A Children's Bible (W.W. Norton, $15.95), I did so with Butler's epic in mind.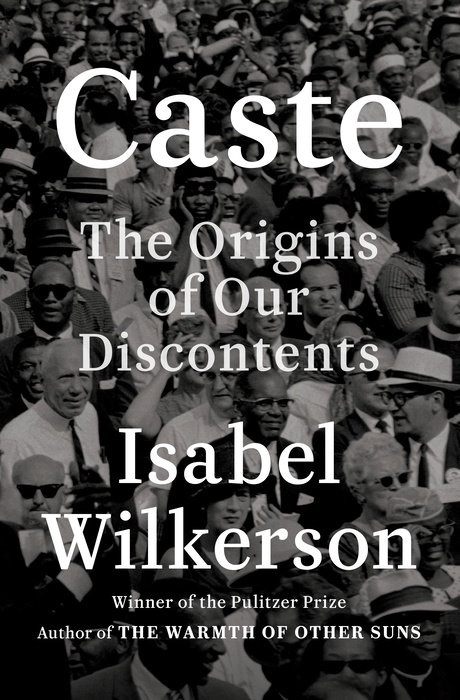 And I couldn't help thinking of Lutie's heartbreaking optimism when reading Isabel Wilkerson's stunning exploration of social injustice, Caste (Random House, $32). --Kristianne Huntsberger, publisher program manager, Shelf Awareness

In this Issue...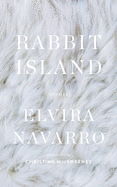 In these 10 introspective and unsettling surreal stories, characters explore desire, memory and transformation.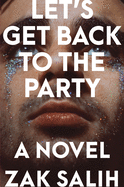 This gripping and thoughtful novel asks urgent questions about what it means to be a gay man in contemporary American culture.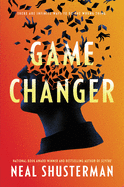 In this thought-provoking speculative novel, a teen tries to reset his life--and the universe--with the help of his friends, his brother and a squad of snarky multidimensional beings.
Review by Subjects:
Fiction ⋅ Mystery & Thriller ⋅ Science Fiction & Fantasy ⋅ Biography & Memoir ⋅ Social Science ⋅ Science ⋅ Parenting & Family ⋅ Children's & Young Adult

From Garden District Book Shop
Upcoming Events
Postponed - In-Person Event - Kent Babb: Across the River: Life, Death, and Football in an American City
09/16/2021 - 6:00PM
EVENT Postponed THE GARDEN DISTRICT BOOK SHOP HOSTS KENT BABB TO CELEBRATE HIS NEW RELEASE, ACROSS THE RIVER: LIFE, DEATH, AND FOOTBALL IN AN AMERICAN CITY The Garden District Book Shop is thrilled to host an evening celebrating the recent release of award-winning sportswriter Kent Babb's, Across the River: Life, Death, and Football in an American City. What is sure to be a classic work of sports journalism, Across the River is an investigation into the...
Book Candy
Typewriters in Film and TV
"A rhythmic supercut of typewriters in film and TV" was featured on Laughing Squid.
---
Mental Floss looked up "20 words and phrases every British royal family enthusiast should know."
---
Alan Watts reads "one of the greatest things Carl Jung ever wrote." (via Open Culture)
---
CrimeReads featured "one author's top 10 queer protagonists in crime fiction."
---
"This Turkish library is shaped like a shelf of giant books," Lit Hub noted.

Great Reads
Rediscover: Lawrence Ferlinghetti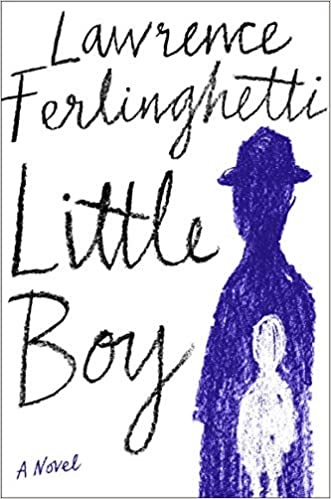 Lawrence Ferlinghetti, distinguished American poet, artist and founder of City Lights Booksellers and Publishers in San Francisco, died February 22 at age 101. In a tribute, City Lights noted that Ferlinghetti "was instrumental in democratizing American literature by creating (with Peter D. Martin) the country's first all-paperback bookstore in 1953, jumpstarting a movement to make diverse and inexpensive quality books widely available. Two years later, in 1955, he launched City Lights Publishers with the objective of stirring an 'international dissident ferment.' [His own Pictures of the Gone World] was the first volume of the City Lights Pocket Poets Series, which proved to be a seminal force in shaping American poetry." As a publisher, one of Ferlinghetti's first books was Allen Ginsberg's Howl & Other Poems (1956), which was introduced at the famed Six Gallery reading on Fillmore Street in October 1955.
"For over 60 years, those of us who have worked with him at City Lights have been inspired by his knowledge and love of literature, his courage in defense of the right to freedom of expression, and his vital role as an American cultural ambassador," City Lights wrote. "His curiosity was unbounded and his enthusiasm was infectious, and we will miss him greatly." Ferlinghetti's many poetry books include A Coney Island of the Mind, which was published in 1958 and has never gone out of print, with a million copies released in a dozen languages. His final book, the novel Little Boy (Anchor, $15), was published a week before his 100th birthday.

The Writer's Life
Michaela Goade: 2021 Randolph Caldecott Medal Winner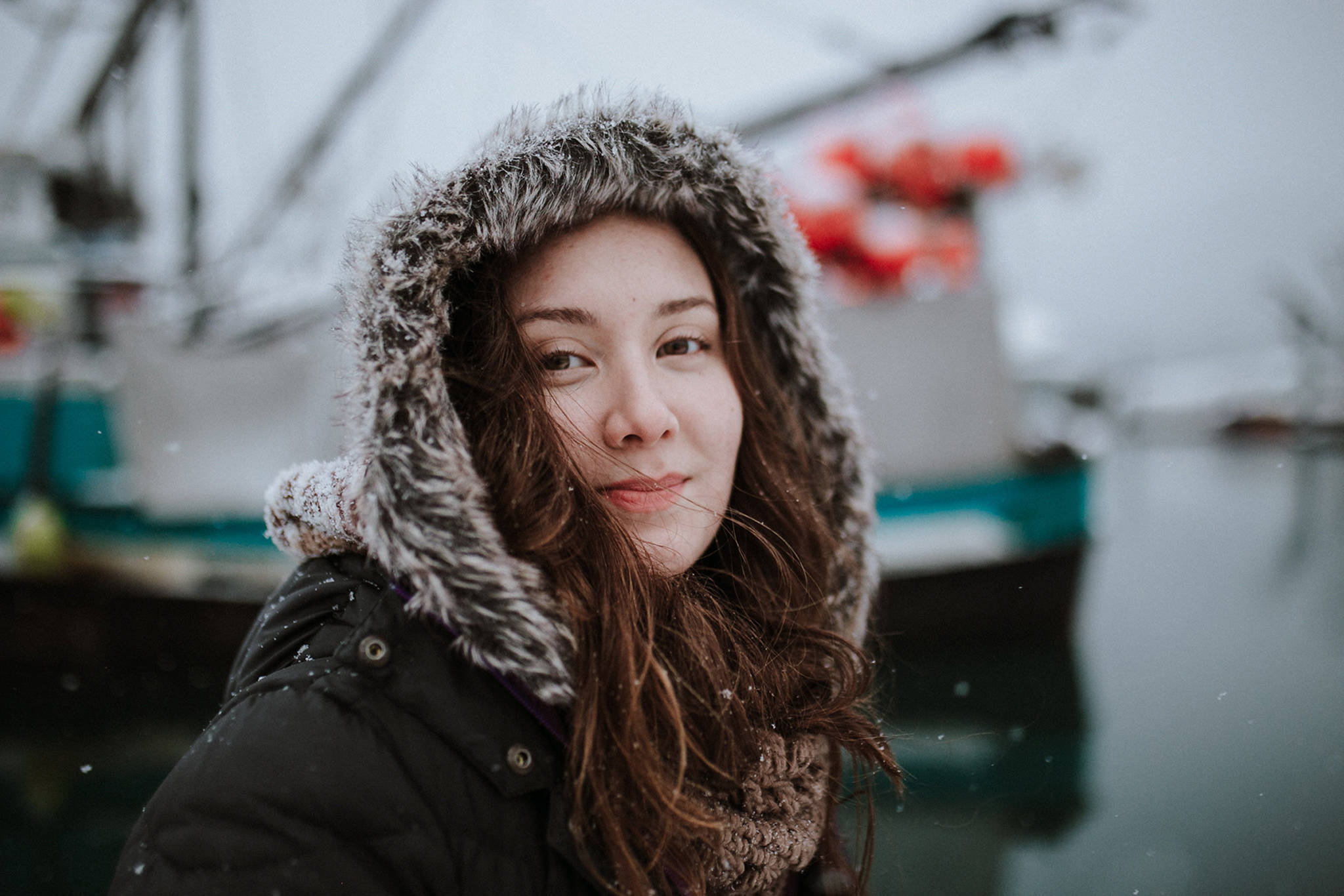 Michaela Goade is an artist and graphic designer who lives and works in Juneau, Alaska, where she was raised. Inspired by the coastal wilds of Southeast Alaska, she aims to capture its magic and honor its vibrant cultures. Goade is from the Raven moiety and Kiks.ádi Clan from Sitka. She has illustrated Encounter (written by Brittany Luby; Little, Brown) and Raven and the Tide Lady (written by Pauline Duncan; Sealaska Heritage). Recently, Goade won the 2021 Caldecott Medal for illustrating We Are Water Protectors, written by Carole Lindstrom and published by Roaring Brook Press.
How does it feel to win the 2021 Caldecott Medal?
It has felt so surreal! Not that long ago, winning a Caldecott Award seemed like a far-fetched dream. As the shock begins to settle, what I'm feeling most is a LOT of gratitude. Gratitude for the Caldecott committee, water protectors around the world, the Native kidlit community, author Carole Lindstrom, editor Mekisha Telfer and the amazing Roaring Brook team that worked so hard to bring this book to life.
We Are Water Protectors is a picture book that is a call to action inspired by Indigenous environmental movements. How did you feel when you read the text?
I was captivated from the first read-through. With a minimal amount of text, Carole was able to convey hope and inspiration while also speaking to the story's gravity and urgency. I was immediately inspired by the possibilities this presented for the art.
Were you excited to be a part of telling this story?
Yes, there was SO much excitement! It was also an honor and responsibility to be trusted with this story. I really wanted to do right by everyone and make the Standing Rock water protectors proud.
What was your approach to making Lindstrom's text visual?
In general terms, I wanted the art to sing with life and spirit, especially the water. I wanted water to be another main character that would change in form, color and energy. I wanted to focus on the water protectors and the incredible diversity, unity and YOUTH leadership found at this historic gathering, and not directly depict the forces they were up against. To me, highlighting everything they were fighting for instead of against felt powerful. My favorite line from the book is "We fight for those who cannot fight for themselves."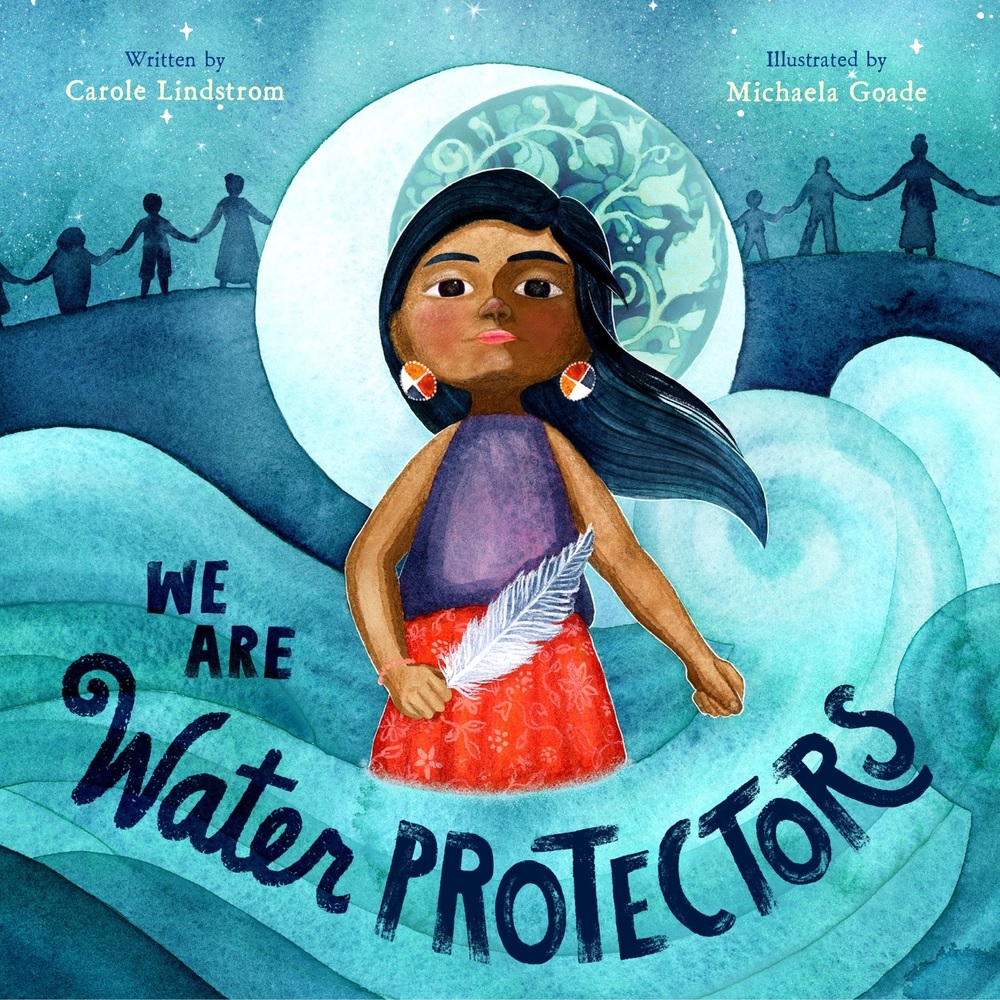 A thing I particularly love about this book is how it melds the literal and figurative, how you use color and line to make the book feel both dreamy and down-to-earth. How did you accomplish that? Is that something you set out to do?
Dreamy and down-to-earth--I love that articulation! I'm not sure if that direction was entirely intentional when I first began this book, but it definitely evolved in that direction over time. I spend a lot of time in my own little dream world, so on one hand I think it comes quite naturally, but this project helped me realize just how much I love exploring those pockets of magic and cosmic energy within a story, especially if it's a more literal one. And when you spend a lot of time in nature, it is easy for those lines to blur. In traditional Tlingit cosmology, there isn't a clear boundary between reality and a supernatural realm, and that is something that has always resonated with me.
Is there anything in particular that you, as illustrator, hope readers take from We Are Water Protectors?
Oh, that is hard to narrow down! I hope readers leave the book feeling a sense of connection, both to each other and to the land. I hope readers are inspired to think about how they are currently in relationship with the land, and come up with ways to be water protectors themselves. For our Indigenous children (and adults), I hope they feel seen and know that their stories and voices are incredibly important. I hope readers everywhere gain a deeper understanding of Indigenous-led movements/environmental justice issues that affect us all and recognize how important it is that we amplify and lift up Indigenous voices all year long.
Is there anything else you'd like to tell Shelf Awareness readers?
I would like to thank everyone who championed this book, embraced its message and helped nurture future water protectors. It has been so incredible to witness, and it fills me with hope! I also want to thank the water protectors of Standing Rock and beyond, who are doing this work day after day and putting their bodies on the line. They're defending the sacred and fighting for us all. Gunalchéesh! --Siân Gaetano, children's and YA editor, Shelf Awareness

Book Reviews
Fiction

Algonquin, $25.95, hardcover, 288p., 9781616209575

Two Lines Press, $19.95, hardcover, 184p., 9781949641097
Little, Brown, $26, hardcover, 240p., 9780316450812
Random House, $27, hardcover, 352p., 9780593229651
Mystery & Thriller
Del Rey, $27, hardcover, 352p., 9780593158210
Science Fiction & Fantasy
Tor, $13.99, paperback, 112p., 9781250782120
Biography & Memoir
Scribner, $27, hardcover, 400p., 9781982120825
Social Science
HarperOne, $27.99, hardcover, 256p., 9780063037946
Science
The MIT Press, $19.95, paperback, 224p., 9780262542388
Parenting & Family
Penguin Life, $26, hardcover, 240p., 9781984880772
Children's & Young Adult

Quill Tree/HarperCollins, $17.99, hardcover, 400p., ages 12-up, 9780061998676
Sourcebooks Fire, $17.99, hardcover, 320p., ages 13-up, 9781492694342
Wide Eyed Editions, $24.99, hardcover, 64p., ages 5-8, 9780711258754
---