From the Shelf
A Return to the Land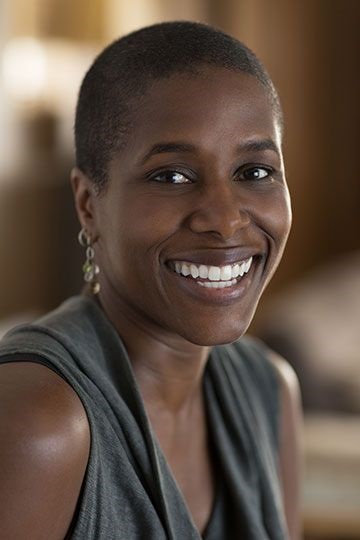 Natalie Baszile
As Earth Day approaches and the soil begins to bring forth its riches, Natalie Baszile's We Are Each Other's Harvest: Celebrating African American Farmers, Land, and Legacy (Amistad, $29.99) calls to mind the complex relationship humans--especially African Americans--have with the land.
Baszile's collection of essays, poems and family histories pay homage to the Black farmers who tilled North American earth, first under enslavement and then as free people. The testimonials in these pages describe the many challenges they have faced and continue to face--many posed by the USDA and other government practices--but also the community they've formed, guiding each other, lifting each other up.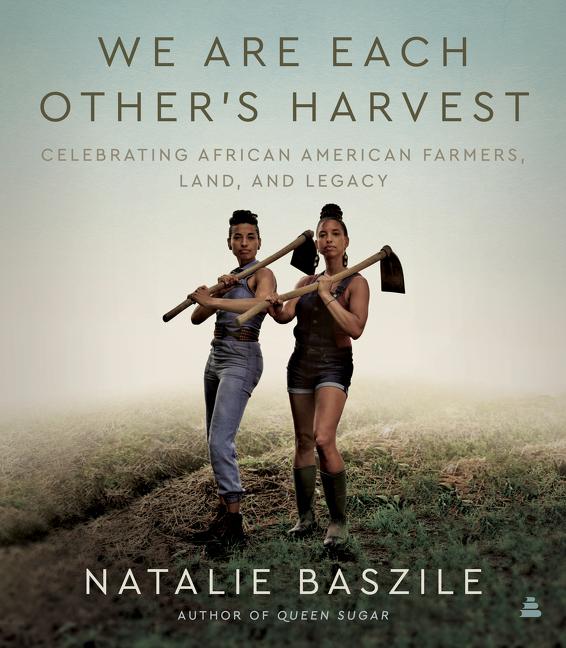 Kamal Bell founded Sankofa Farms in Cedar Grove, N.C., to "give back to my people"--squash, cowpeas and watermelon as well as beekeeping. Marvin Frink views raising his Black Angus cattle in Red Springs, N.C., as a way of healing from and helping others to heal from PTSD. Brenae Royal gains satisfaction from harvesting grapes in the Monte Rosso vineyards of California. Leah Penniman sees working Soul Fire Farm, in New York State, as activism: teaching others to grow food, feeding the community and honoring the ancestors who brought seeds braided into their hair across the Middle Passage.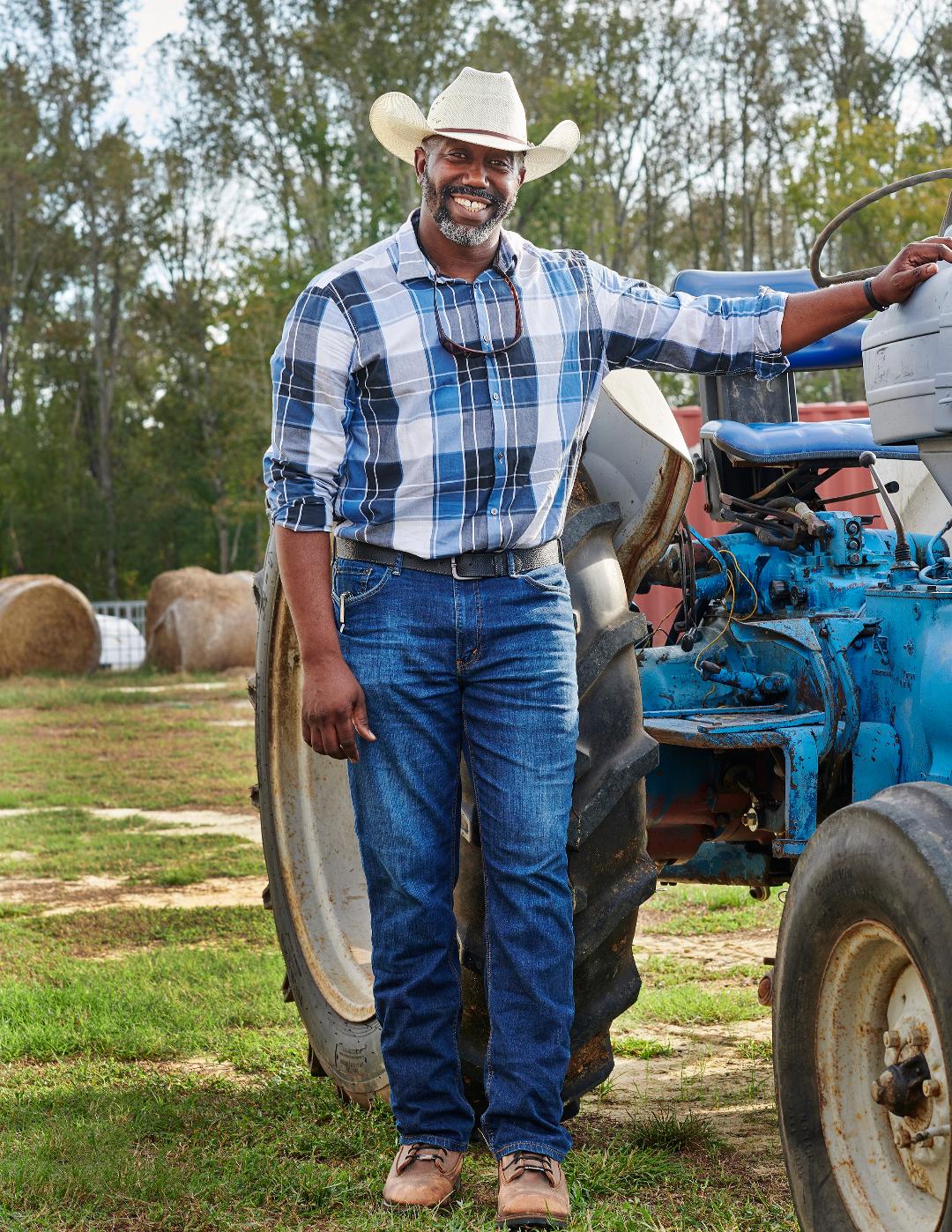 Marvin Frank, a retired special forces vet-turned-farmer. (photo: Alison Gootee)
Braszile brings a personal passion for her theme. She explains how she chose sugar farming for her novel Queen Sugar (now a series on OWN) and the years she spent not only researching but also participating in its farming and harvest. Her stories describe generations of farming practices, and Alison Gootee's full-color photographs depict the majesty of the land and the people who tend it. The healing words of Native American poet Joy Harjo's "Remember" (included in the book) remind us that humans, made of the earth, return to the earth: "Remember the earth whose skin you are: red earth, black earth, yellow earth, white earth/ brown earth, we are earth." --Jennifer M. Brown, senior editor, Shelf Awareness

In this Issue...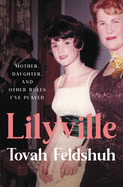 This unremittingly charming memoir by Broadway powerhouse Tovah Feldshuh highlights the grandest role of her life: that of her mother's daughter.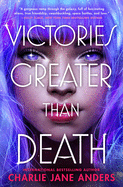 In this electrifying YA debut from a Nebula Award winner, an alien war hero's teen clone embarks on an intergalactic mission to save several civilizations, all while finding romance and herself.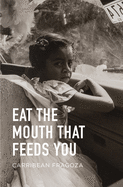 This transnational story collection full of magical realism and gothic elements centers on women who are trying to reclaim their lives and step into their power.
Review by Subjects:
Fiction ⋅ Mystery & Thriller ⋅ Science Fiction & Fantasy ⋅ Biography & Memoir ⋅ Psychology & Self-Help ⋅ Children's & Young Adult

From Garden District Book Shop
Upcoming Events
Postponed - In-Person Event - Kent Babb: Across the River: Life, Death, and Football in an American City
09/16/2021 - 6:00PM
EVENT Postponed THE GARDEN DISTRICT BOOK SHOP HOSTS KENT BABB TO CELEBRATE HIS NEW RELEASE, ACROSS THE RIVER: LIFE, DEATH, AND FOOTBALL IN AN AMERICAN CITY The Garden District Book Shop is thrilled to host an evening celebrating the recent release of award-winning sportswriter Kent Babb's, Across the River: Life, Death, and Football in an American City. What is sure to be a classic work of sports journalism, Across the River is an investigation into the...
Book Candy
Earth Day Fare
"Feed your mind & nourish your soul on Earth Day," the New York Public Library suggested, while also recommending "eco fiction for kids and teens."
---
The U.S. Court of Appeals for the D.C. Circuit recently issued a notice [PDF] scolding legal professionals for filing paperwork using the Garamond font, Mental Floss noted.
---
"A word game player's guide to 'q' without 'u' words," courtesy of Merriam-Webster.
---
Author Jonas Jonasson shared his picks for top 10 books about revenge with the Guardian.
---
Open Culture highlighted the "exquisite watercolors of demons, magic & signs" in the Compendium of Demonology and Magic from 1775.

An Introduction from Publisher Denene Millner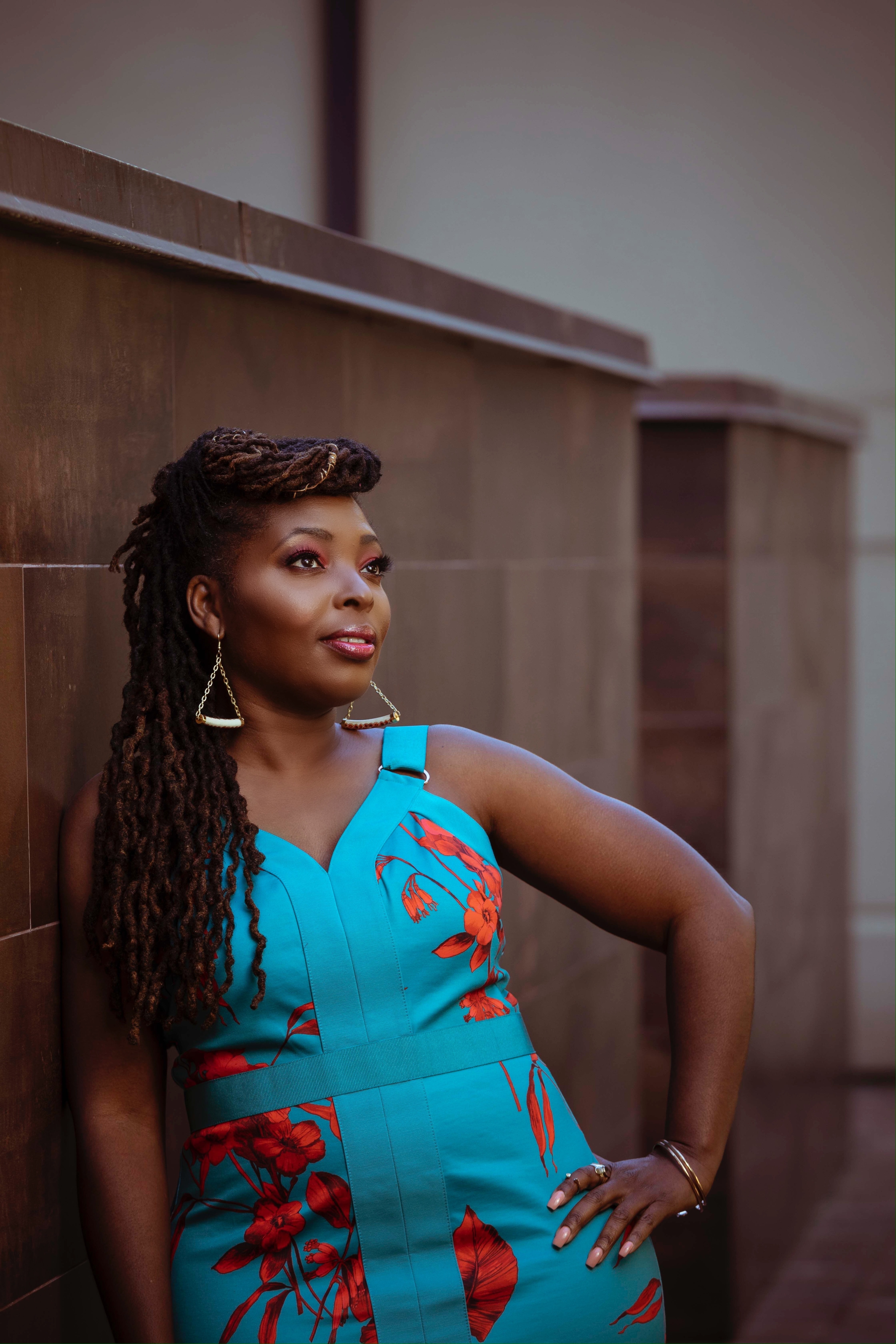 Denene Millner
The thing is, I was just a kid who loved books—A Little Princess, the Ramona series by Beverly Cleary, that "I must, I must, I must increase my bust" exercise Margaret practiced in Judy Blume's Are You There God, It's Me, Margaret—were all refuges for this studious, story-loving Black girl from Long Island, New York. But there weren't any characters who looked like me, who had regular Black girl experiences, in my favorite tomes. It wouldn't be until I got to college and was assigned Toni Morrison's Song of Solomon that I could put my finger on what I'd been missing all my reading life: I needed—deserved—to see myself reflected in the pages of the books I read.
I promised that when I had daughters of my own that this wouldn't be their reality—that they would have bookshelves full of tales about loving Black families having distinctly Black experiences within universal stories. Alas, pre-Internet, they were hard to come by. Frankly, they still are. The latest statistics on the diversity of characters in children's books, as chronicled annually by the Cooperative Children's Book Center, found that of more than 3,700 books published in 2019, only about 12% featured Black characters. Basically, children are more likely to see a book about a talking animal than they are Black children.
Denene Millner Books' mission is to change that—to not only give Black children the chance to see their lives reflected in the stories on their bookshelves, but to also deliver to Black children universal childhood experiences that celebrate the everyday beauty of being little humans of color. Be clear: this imprint is a clarion call for those who care deeply about Black children to embrace Black joy as resistance to the narrative that our babies are anything but good. Wanted. Beautiful. Love.
To that end, I choose to use this platform to dream of a world where children can see themselves using their imaginations, like in Markette Sheppard's My Rainy Day Rocket Ship, and spending a glorious, love-filled day with their mothers, like in Cozbi A. Cabrera's Me & Mama and Alice Faye Duncan's Just Like a Mama—where they can imagine themselves as kick-butt warriors with gods in their bloodlines, as conjured by J. Elle in her YA fantasy, Wings of Ebony, and understanding, too, that Blackness is as wide and expansive as it is beautiful, as Sili Recio celebrates in her book, If Dominican Were a Color.
I've also committed to using Denene Millner Books to kick down some doors—to up the abysmally low number of Black creators telling and illustrating stories about Black children and families. It is my personal effort to increase the numbers of Black creators telling Black stories within the Big five publishing houses.
With this passion and commitment, Denene Millner Books aims to add to that small but important canon of books that paves the way for children to see themselves—their whole selves—on the page. Think of Denene Millner Books's offerings as love letters to children of color who deserve to see their beauty and humanity in the most remarkable form of entertainment on the planet: books. Little Denene would have loved them. Today's little humans deserve them. Denene Millner Books is so very happy to do its part. —Denene Millner
Denene Millner is a New York Times bestselling author, award-winning journalist and vice-president and publisher of the Denene Millner Books imprint. She has written 30 books for adults, teens and children, among them Around the Way Girl, a memoir with actress Taraji P. Henson, and Early Sunday Morning, a children's picture book. She is also the founder of MyBrownBaby.com, a critically acclaimed blog that examines the intersection of parenting and race, and the host of Speakeasy with Denene, a podcast produced by Georgia Public Broadcasting. Denene lives in Atlanta with her two daughters and their adorable Goldendoodle, Teddy.
Cozbi A. Cabrera: Authenticity in Creation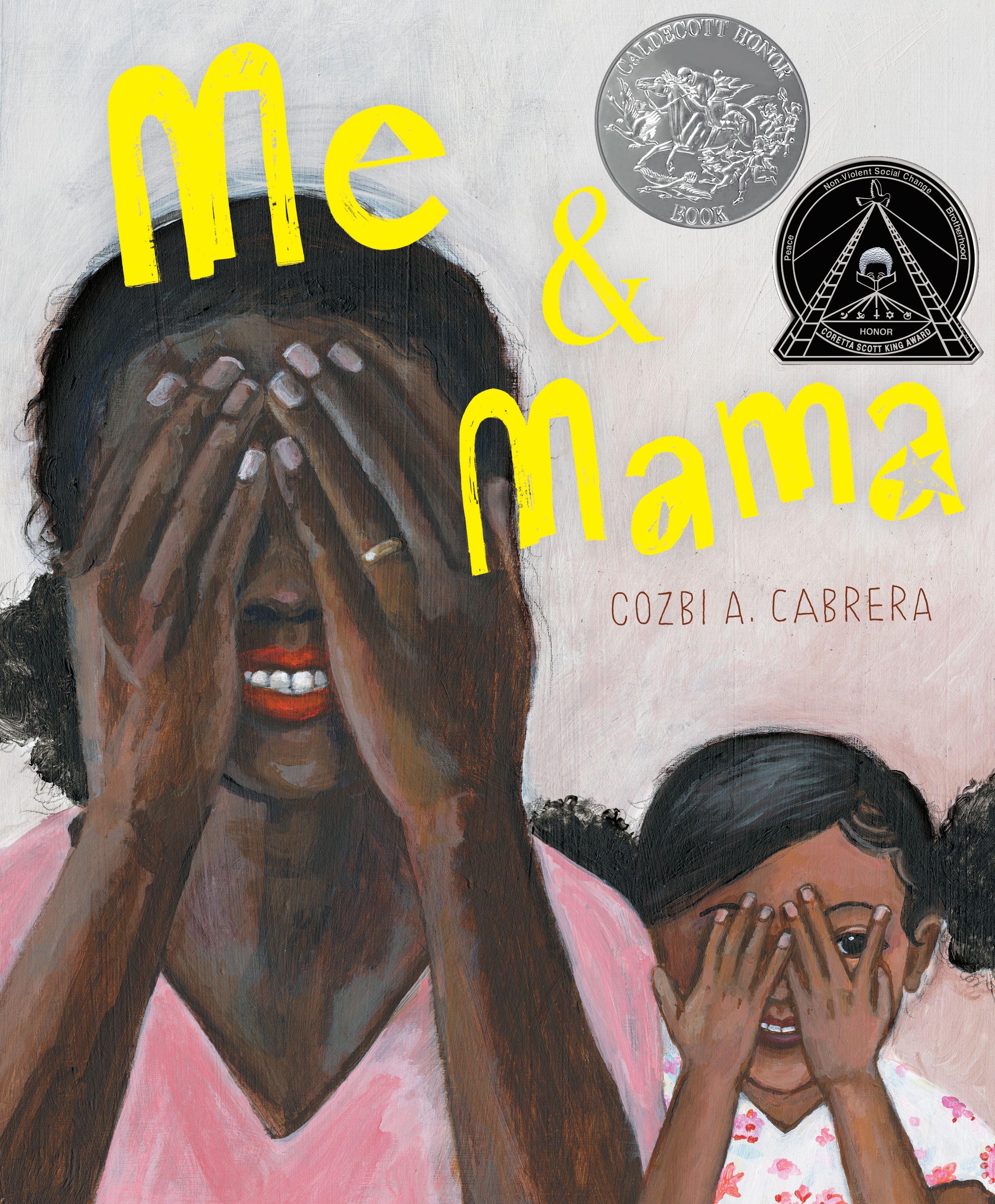 Cozbi A. Cabrera received a BFA from Parsons School of Design. She is the illustrator of several acclaimed children's picture books, she designs clothes and she makes cloth dolls that have garnered the attention of collectors around the world. Here she is interviewed by Denene Millner, publisher of Cabrera's book, Me & Mama, a Caldecott and Coretta Scott King Illustrator Honor Book.
Denene Millner: You are a fine artist in every sense of the word, having made everything from your gorgeous muñecas and clothing to textiles and paintings. What led you to children's book illustration?
Cozbi Cabrera: I've always been drawn to children's books—collecting the ones that spoke to my heart, even prior to my daughter's arrival. I collected them for me. There's a simplicity in the format, storytelling and image capture that can stir a heart—even an adult heart. It's a powerful medium. My best friend gave me The Talking Eggs, illustrated by Jerry Pinkney and written by Robert D. San Souci, as a birthday gift in my early 20s with an inscription: "I hope the story and the illustrations will be an inspiration and incentive to helping you realize your dreams as a storyteller and illustrator, love always."
As fortune would have it, a college friend, Laura Pegram (now of Kweli Journal), approached me to illustrate two of her board books for an independent publisher while I was designing for music. I put together full book dummies for a couple more of her delightful stories that didn't make it to release. Fast forward: while exhibiting my dolls, an editor approached me with an invitation to illustrate a manuscript thinking I'd deliver it as textile art and not aware I'd done other books. Other invitations followed.
Millner: You have such a distinctive illustration style. How would you describe it and how have you honed it over the years?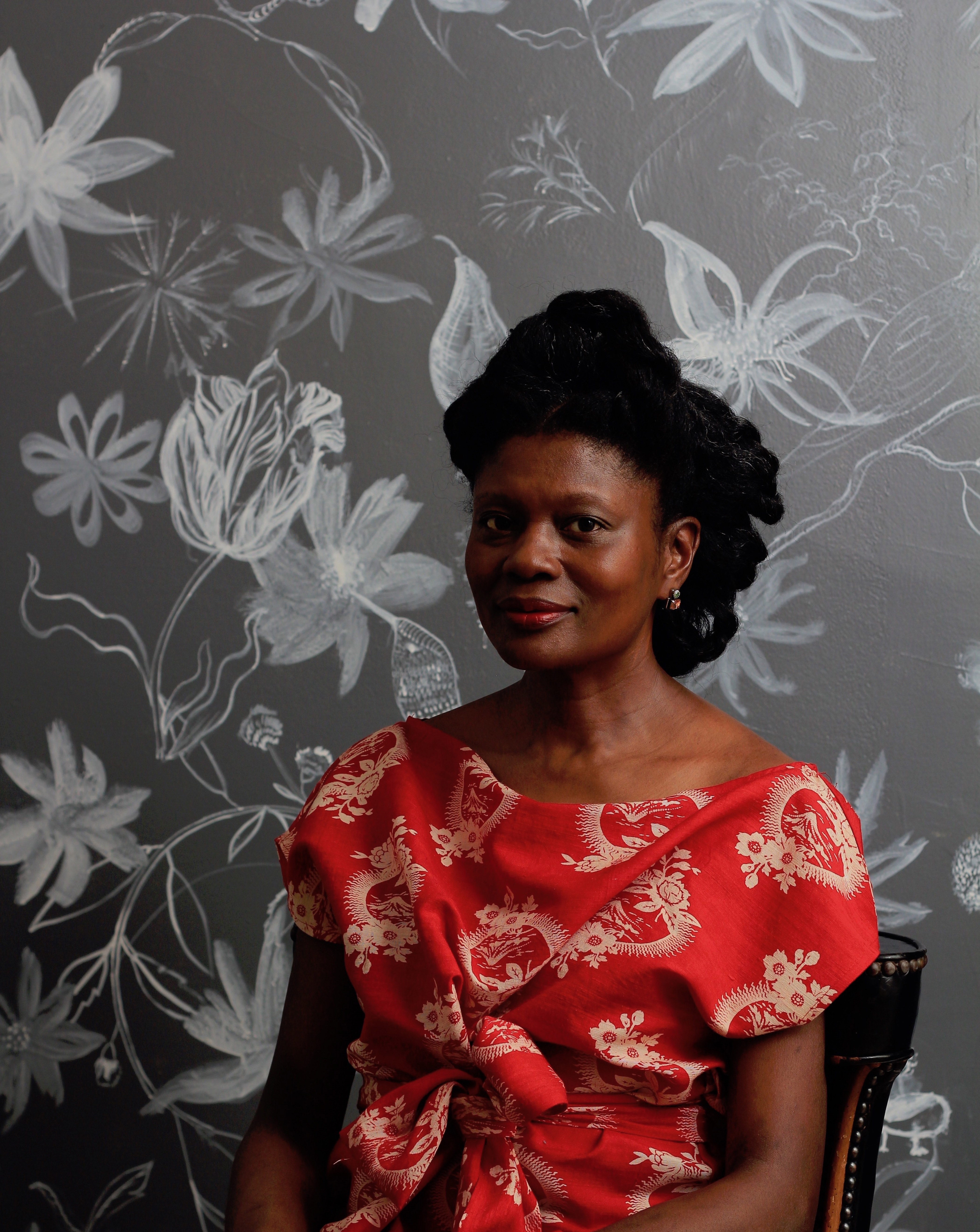 Cozbi Cabrera
Cabrera: I think I've refrained from describing it. I love to paint, and I love paint. That sounds like a simple statement, but there's something about allowing your materials to be what they are that helps. If I want to reupholster a leather chair for example, I wouldn't select a vinyl and try to imitate the leather. No, if leather's not available (I can hear our vegans wincing—it's only to illustrate a point), I'd go for a hand-woven fabric, or say, a mohair velvet. In other words, I'd choose a material that was "itself." Materials selection and handling is the beginning of authenticity in creating and goes hand in hand with having your say. The Gee's Bend quilters demonstrate this beautifully with quilts made from work-clothes, real material. We see evidence of hard labor in every stain, faded and patched knee reworked into a thing of utility and beauty. Every artist (whether fine or commercial) lends their voice, discernment, taste and point of view to every project. I do my best to find the heart in every project—its emotional undertone.
Keen observation, being clear about what I like, lots of life study and a drawing practice is how I've honed my illustration style over the years. I see a limitless runway ahead with so much potential for exploration and growth!
Millner: Me & Mama is such an extraordinary book about an ordinary day. What inspired the story, and what lessons do you hope readers take away from it?
Cabrera: Me & Mama was inspired by a broken cup. My then three-year-old was trying to get me a cup of water in my favorite cup. Children are so new to this world, and I understood that she knew nothing about distinguishing between what's breakable, even while knowing the word "breakable." She didn't know about gravity, about calculating the width of the water cooler ledge relative to the bottom of the now filled cup, the unforgiving nature of ceramic tile. So, CRASH, KABOOM! And there are many moments like that in the rearing of a child, this precious contract we engage in while all the learning, shaping and celebrating what is occurring in these tender souls. I wanted to record this string of moments, the beauty and richness of time spent together. Children value this more than material preferences. My hope? To touch the hearts of the little ones in our laps and the bigger ones reading aloud.

Great Reads
Rediscover: Our Towns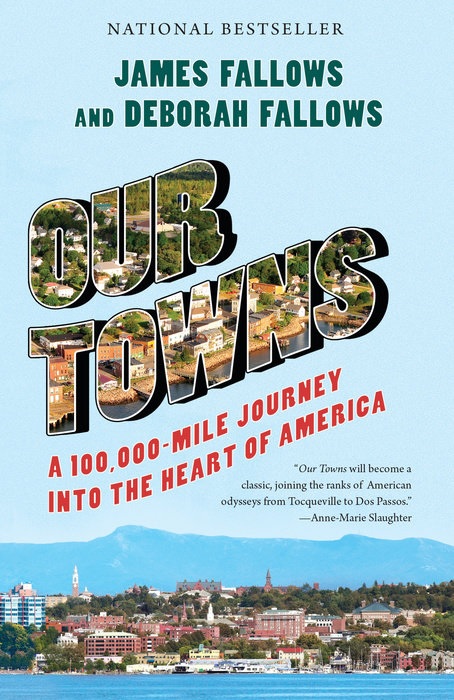 In 2013, journalist James Fallows and his wife, Deborah, began an audacious odyssey: to travel, via single-prop airplane, to American small towns and cities often overlooked in the national conversation, places normally reported on in the context of visiting politicians or disasters. What the Fallowses discovered was a small-town America more vital than they expected, where local problems were being solved with creative thinking and people were less divided than national politics would suggest. But many of these places, from Sioux Falls, South Dakota, to Dodge City, Kansas, also faced the acute crisis of the opiate epidemic and the chronic problem of racial injustice. After five years of traveling, the Fallowses wrote Our Towns: A 100,000-Mile Journey into the Heart of America, published in 2018.

On April 13, HBO aired a documentary based on Our Towns created by Academy Award-nominated filmmakers Steven Ascher and Jeanne Jordan. In it, Ascher and Jordan fly to eight small towns and cities across the U.S., where they find resilient people tackling seemingly intractable social and economic issues. The film is streaming on HBO, and the Fallowses' book is available in paperback from Vintage ($16.95). --Tobias Mutter

Book Reviews
Fiction

City Lights Books, $16.95, paperback, 144p., 9780872868335
Ecco, $26.99, hardcover, 256p., 9780062971289
Europa Editions, $15, paperback, 96p., 9781609456603
Metropolitan Books, $24.99, hardcover, 288p., 9781250317148
Mystery & Thriller
Flatiron, $27.99, hardcover, 304p., 9781250170279
Emily Bestler/Atria, $27, hardcover, 256p., 9781982156466
Science Fiction & Fantasy
Lanternfish Press, $16, paperback, 152p., 9781941360514
Biography & Memoir

Hachette Books, $29, hardcover, 320p., 9780306924026
Walnut Street Books, $14.99, paperback, 225p., 9781947597426
Psychology & Self-Help
Basic Books, $28, hardcover, 272p., 9781541646995
Children's & Young Adult

Tor Teen, $18.99, hardcover, 288p., ages 13-up, 9781250317315
little bee books, $17.99, hardcover, 32p., ages 3-6, 9781499811933
---