A Curse So Dark and Lonely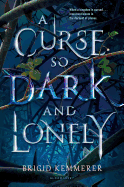 For the people of Emberfall, five years have passed since the crowned prince, Lord Vincent Aldrhen, turned 18; for Prince Rhen, it has been decades. "The last... enchantress in Emberfall" cursed him to repeat the same summer, Groundhog Day-style, until he finds love. More than 300 "seasons" have passed, and Rhen has yet to find love, and each has ended with him turning into a murderous beast. It is the beginning of his 327th season and "everything is... the same. Except for the dead. They never come back."
Harper lives in D.C. with her mother, who is dying of cancer, and her brother, Jake. Her father disappeared, leaving the family with the kind of debts that get a person killed. Jake plays "bill collector" for the loan sharks and enlists Harper, who has cerebral palsy, to be his lookout. While on lookout, Harper witnesses an apparent abduction. "I can't do nothing," she thinks, before throwing herself at the man. He subdues her and transports her to a new place: Emberfall. Harper--unwilling, angry--is the 327th potential love.
Kemmerer merges modern sensibilities with an epic love story in this Beauty and the Beast retelling. Rhen, a seeming "pretty, tortured male" stereotype, shows genuine growth as the novel progresses; Harper is fierce, compassionate, loving, scared and defiant from the start. Harper's cerebral palsy doesn't define her--it is just a part of who she is, and she can do anything she wants, thank you very much. Unlike the standard Beauty, she knows what's happening, knows what Stockholm Syndrome is and won't trust this prince until he gives her good reason. It's an uneasy, slow stumble into (possible) love, and Kemmerer makes her point about life pretty clear: "There are no easy choices. None." --Siân Gaetano, children's and YA editor, Shelf Awareness