The Golden Tresses of the Dead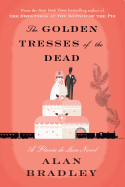 In The Golden Tresses of the Dead, the 10th entry of the Flavia de Luce series, the 12-year-old sleuth and chemistry wunderkind is beginning anew. She and Dogger, her father's former butler, have set up a private detective agency together: Arthur W. Dogger and Associates. Dogger's name goes first since Flavia is still a child and many people don't take her investigative abilities seriously.
Still, the agents rapidly become involved in multiple cases. First, at the wedding of Ophelia, Flavia's sister, when a human finger is found in the wedding cake. Next, an odd woman named Mrs. Prill, heir to the Brocken's Balsamic Electuary fortune, hires Dogger and Flavia to find some missing letters. But there's something strange in how Mrs. Prill speaks of her father, a famous homeopathic doctor, and it sends Flavia and Dogger off to meet with him at his nursing home. Along the way, they find clues to the source of the finger found in Ophelia's wedding cake.
With his usual understated style, Alan Bradley (The Grave's a Fine and Private Place, The Sweetness at the Bottom of the Pie) has created an engaging mystery that keeps Flavia too busy to think much about recent events in her life, including her pesky cousin Undine's arrival. Instead, she is up to her usual tricks, using chemistry to analyze the finger along with a surprising variety of mysterious substances. The chemical details, quaint English village traditions and midcentury charm all add up to make The Golden Tresses of the Dead a delightful novel. --Jessica Howard, bookseller at Bookmans, Tucson, Ariz.