The Nowhere Child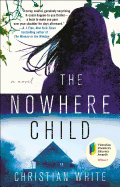 Who took two-year-old Sammy Went? And now, 30 years later, could she still be alive? These are the questions that drive Australian author Christian White's propulsive debut novel, The Nowhere Child. This gripping mystery moves back and forth in time: between 1990, when Sammy Went was kidnapped from her home in Manson, Ky., and the present day, when Kimberly Leamy, living in Melbourne, Australia, learns she may actually be Sammy.
That revelation comes from James, a grown man claiming to be Sammy's brother, who tracks down Kim after decades of searching for his lost little sister. From there, the novel unfolds in a number of unpredictable twists and turns. Kim embarks on a geographical and psychological journey as she investigates her family history and uncovers disturbing facts that bring her to Kentucky.
White is a sparse but talented writer, his sharp lines cutting the page like knives. With few details he paints vivid scenes: "Ellis squinted into the dark of the house. A small woman stepped outside and into the light, can of beer in one hand, cigarette in the other." Sometimes his scenes are so striking they read like frames from a movie, which makes sense, because White is also a screenwriter working on the television series Carnivores with Matchbox Pictures.
Deftly plotted, with believable characters, The Nowhere Child is a satisfying mystery by a talented new voice in the genre. --Amy Brady, freelance writer and editor