'Broadsword Calling Danny Boy': Watching 'Where Eagles Dare'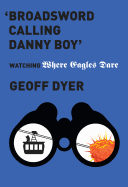 Geoff Dyer is a remarkably versatile writer, seemingly able to cover any subject with wit and feeling. 'Broadsword Calling Danny Boy' is a return to the film criticism that proved so successful in Zona, his book about the art cinema masterpiece Stalker. Dyer's selection here, the decidedly less highbrow 1968 World War II action extravaganza Where Eagles Dare, receives scene-by-scene scrutiny with an eye to what is both delightful and ridiculous about the Alpine adventure.
Dyer's dissection is frequently personal, referencing the film's important place in his childhood. The book is packed with footnotes, many of them entertaining anecdotes from the author's youth. However, this is not merely a nostalgic reading. Instead, the surprisingly complicated plot of the film--involving parachuting behind German lines, infiltrating a Nazi castle in the snowy mountains, and escaping in a famous sequence featuring cable cars--serves as a jumping-off point for mini-essays. Their subjects are plentiful, including Clint Eastwood's peculiarly un-emotive brand of acting, the enduring appeal of the "getaway" and the film as an allegory for Brexit. On the latter point, Dyer observes: "Everything in the film is German. It's practically an advert for the superiority of German manufacturing.... We won the war, the film concedes, but lost the manufacturing peace."
It is not necessary to have seen Where Eagles Dare to enjoy 'Broadsword Calling Danny Boy', though it may add to your pleasure. The appeal of the book is watching Dyer go off in a dozen clever directions, finding humor and insight in unexpected places. --Hank Stephenson, bookseller, Flyleaf Books, Chapel Hill, N.C.