How to Braise Everything: Classic, Modern, and Global Dishes Using a Time-Honored Technique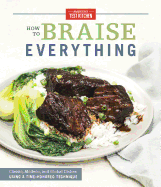 How to Braise Everything, the latest in the America's Test Kitchen series, goes beyond your mom's Sunday pot roast in more than 200 recipes from around the globe.
Browse the enticing photos accompanying every recipe and try to decide where to start. Each is a mouth-watering image of meat, fish, beans or vegetables--from Italian pot roast to the (significantly!) updated green bean casserole. So, what's braising? Cooking "a main ingredient... in a closed environment to break down its proteins or fibers and achieve ultratender results." The opening pages of the almost 400-page cookbook are crucial: here is the science of braising, the importance of liquid and why to embrace both hands-off cooking and the magic of finishing touches.
While the editors include vegetable sides, including beer-braised cabbage and classic mashed potatoes, How to Braise Everything is a carnivore's cookbook. The Moroccan Braised White Beans are prepared with lamb; the Sichuan Braised Tofu, with chicken broth and ground beef. A "Why This Recipe Works" sidebar for every recipe includes a bit of history, prep tips and suggestions on substitutions and side dishes.
How to Braise Everything will inspire even novice cooks to prepare hearty, satisfying meals with this simple and foolproof cooking technique. --Cheryl Krocker McKeon, manager, Book Passage, San Francisco