Shortest Way Home: One Mayor's Challenge and a Model for America's Future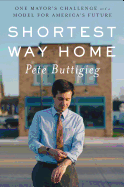 Growing up in South Bend, Ind., Pete Buttigieg never expected to become the mayor of his hometown. But at 37, after a winding journey that took him to Harvard, Oxford and Afghanistan, Buttigieg not only lives in his childhood neighborhood, he works for the place that has shaped him. His memoir, Shortest Way Home, chronicles his own story alongside that of South Bend's post-industrial struggle and its gradual revitalization.
The heart of the book is his on-the-ground political education in the Midwest. First driving through cornfields to knock on doors for Senator Barack Obama, then running for state treasurer of Indiana (and getting trounced), Buttigieg traces his growing interest in holding public office and using any power he might gain to do some good. He recounts his campaign for mayor and the optimism of taking office. But he is also candid about the job's frustrations (no politician can please everyone) and heartbreaks (his grief for local victims of gun violence and recently tightened immigration laws).
His warm, thoughtful narrative voice reflects his approach to local politics: seeing people as individuals who are also part of their community and figuring out how to make their lives better. Buttigieg's story is particular to South Bend, but it offers insights for those working to lead cities around the country. Shortest Way Home is a meditation on how to govern and live well, and how one man came home "to find belonging by making myself useful there." --Katie Noah Gibson, blogger at Cakes, Tea and Dreams