The Girls at 17 Swann Street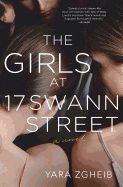 The Girls at 17 Swann Street is a haunting first novel from Yara Zgheib. It's written in a lyrical, poetic style that contrasts intriguingly with the blunt subject matter--one woman's descent into anorexia.
Anna was a professional ballerina in Paris, always just a bit too short, a tad too heavy, for the lead roles. Soon after her marriage to the love of her life, Matthias, he was offered a job in St. Louis, Mo., and Anna willingly followed him. But she became lonely without her dancing and her friends; her incipient eating disorder tendencies began to spiral out of control. She exercised more and ate less, obsessing over every tiny bite of apple until she was a mere wisp of her former self. After months of pleading, Matthias convinces Anna to move to 17 Swann Street where she will receive round-the-clock treatment for anorexia. Battling her demons as she's faced with plates of food she's forced to eat, therapy sessions she unwillingly endures and fellow patients with whom she must coexist, Anna chronicles her struggles with, and beyond, anorexia.
Fascinating and dreamlike, this debut is a look into the mind of someone who can see themselves as fat at 88 pounds. Incorporating flashbacks of Anna and Matthias's seemingly perfect life in Paris and shocking facts about the side effects of starvation, The Girls at 17 Swann Street is compelling, sure to keep the reader rooting for Anna's survival. --Jessica Howard, bookseller at Bookmans, Tucson, Ariz.