I Am God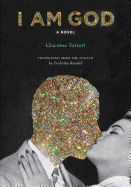 Giacomo Sartori's I Am God (translated from the Italian by Frederika Randall) skewers religion, science and love through observations from the Almighty himself. God is moved to "describe my existence... in clumsy human language" through diary entries.
God is obsessed with Daphne, a scientist who is also a promiscuous, cross-burning atheist. He tries to remain neutral as he watches her (although strange accidents happen to the attractive scientist interested in her). God finally admits to himself, "It's not clear my appreciation for her is one hundred percent divine."
God diverts his attention with visits to the outermost reaches of the cosmos. "Not even the divine eye... can ever have its fill of the infinite variety of shapes and unending metamorphoses, the ever-changing choreographies that give life to its farraginous complexity." But he returns, again, to humankind. "They bug me, that barbarous cult of technology of theirs and their contempt for things that matter; they enrage me... but I can't stop looking at them." Daphne, however, is unaware of divine interest. Her job and relationships with friends and lovers preoccupy her thoughts. When she finally confronts the reason for her hatred of the church, God--"fed up" with humans--says, "The time has come to extinguish them."
I Am God is compulsively readable, with passages so crisp and funny that readers will want to read them aloud. Sartori, an Italian scientist, has written a book that, beyond its philosophical wit, draws attention to hypocrisy in all forms. --Cindy Pauldine, bookseller, the river's end bookstore, Oswego, N.Y.