Rag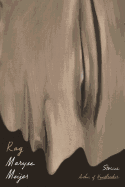 Reading Maryse Meijer's (Heartbreaker) short fiction is transformative. Stunning and evocative, Rag's 14 stories dazzle with brilliance while taking the reader's heart and wringing it dry--but not before delivering a solid literary punch. It is feeling perhaps shared by Meijer's deeply flawed characters during their quests for often elusive connection with others.
In the opening story, "Her Blood," a young woman who suffers a miscarriage in a pizzeria draws closer to the employee who witnessed the aftermath. A boy who gives mouth-to-mouth resuscitation to another male swimmer in "Pool" becomes obsessed with the sexual feelings awakened by the incident. In "Alice," a mother feeds her 12-year-old daughter excessive amounts of meat while simultaneously starving her husband.
Meijer is wildly innovative with her fiction and doesn't limit herself to exploring connection from solely a human point of view. "Good Girls" is told from the perspective of a man reincarnated as an attention-seeking dog, showing the deadly consequences of being too needy. In the title story, a personified household rag reflects on its shifting roles, from cleaning tool to murder weapon. ("Such a delight, to be manipulated by them. My beloveds. Sped further along the path of my undoing, every hour becoming softer and softer, thinner, more sensitive, wiser.")
Deliciously manipulative and psychologically haunting, Rag signifies Maryse Meijer as a master of the short form who consistently shocks and connects by delivering the unexpected. --Melissa Firman, writer and blogger at melissafirman.com.