Snowman - Cold = Puddle: Spring Equations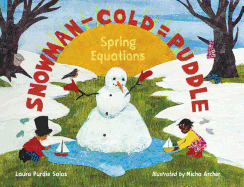 Merging the sciences and arts, Meet My Family author Laura Purdie Salas explores the marvels of spring through (as she explains in her author's note) "combinations of words and symbols" that "are science." As Salas drops her readers into the water with eagles who "swoop down to scoop up tasty fish dinners" or hoists them up to the heavens where "constellations shimmer," she offers short, narrative explanations of her imaginative equations. A rainbow requires sunshine and rain, thus "sun - storm = rainbow"; bees are necessary for pollination so "bumblebees x flowers = blueberries." But the strikingly vivid equations are also something more. Remaining acutely aware of the environment and the emotions it evokes, Salas's equations "compress big ideas into small phrases, using unexpected or playful language." Simply, "they are poetry." This clever mixture of seemingly disparate disciplines explodes on the page in a celebration of spring and an awakening of senses.
Illustrator Micha Archer (Daniel Finds a Poem) brings the words to life with distinctive, charming oils and collage illustrations. The layered shapes and colorful patterns produce a palpable texture, and her dazzling colors pop. The audience can almost feel the breezes blowing kites or smell the perfume of the lilac through Archer's rich representations of the natural world.
Snowman - Cold = Puddle is proof that captivating stories exist in the wonders of the scientific realm. Salas invites her audience to finish the book's final equation for themselves, allowing each reader to see their world in a brand-new light. --Jen Forbus, freelancer