The Book of Delights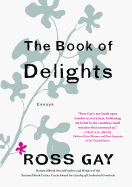 Delight, according to poet Ross Gay, is underrated: its very existence, the multiplicity of delights present in the world, the noticing and celebrating of said delights. Between his 42nd and 43rd birthdays, Gay decided to capture as many delights as possible, and spin them out into a series of "essayettes." The result, The Book of Delights, is a kaleidoscopic collection of joy--an accumulation of blessings that, piled up, create a larger enchantment.
Gay (Catalog of Unabashed Gratitude) renders his delights in joyous, rambling prose: the whirring wings of a hummingbird, the Rothko-like effect of a weathered wooden backboard, the multi-layered affection of nicknames. His delights often take him to unexpected places, as when "Infinity" leads to a handmade lavender scarf and a new approach to masculinity: "I want to be softer, I'm trying to say."
In multiple essays, Gay addresses the complications of seeking and relishing delight as a black American, from the ritual of what he calls "The Negreeting" to the fact that his celebration of delight, as a black man, is a deliberate stand against "the commodification of black suffering." As the joys pile up--there's even an essay on "stacking delights"--Gay finds his delight radar growing more sensitive, his eyes and soul ever more attuned to good, to light, to wonder, to joy. Readers may find themselves pulling out actual pen and paper (another delight) to capture their own enchantments, or--at the very least--relishing every page of Gay's warm, wise, utterly captivating collection. --Katie Noah Gibson, blogger atCakes, Tea and Dreams