The Weight of Our Sky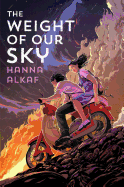 With her debut young adult novel, The Weight of Our Sky, journalist Hanna Alkaf provides heart-pounding, graphic insight into the seismic life shifts experienced by residents of Kuala Lumpur in the days directly following the May 1969 Malaysian Riots.
For 16-year-old Melati Ahmad, her obsessive-compulsive disorder (OCD) manifests as "the Djinn" who promises immediate, gruesome demises for her loved ones if she doesn't complete cycles of counting. If she complies, she is rewarded with brief moments of clear conscience. But all the horrors dreamed up by the Djinn jump from existing only in her mind to occurring in real time when rioting between Malay and Chinese residents breaks out in the streets and Mel is separated from her best friend, Safiya. When Auntie Bee, a Chinese woman, provides a narrow escape for Mel, a Malay, a bold portrait of her existence--lived at the mercy of the Djinn--begins to form.
The varied components of Mel's personal story and Kuala Lampur's history are all deftly folded into the main narrative, which maintains a steady, strong pace throughout. The author provides a straightforward note in the beginning with historical background about the lack of resources to support people with OCD and she issues warnings for "graphic violence, death, racism, OCD, and anxiety triggers." That note sets the tone, and readers move forward through Mel's heartrending but necessary internal transformation. A central point of Alkaf's work is voiced by Mel as she stands in the gap between warring factions, exemplifying the principle, "where we plant our feet is where we must hold up the sky... we live and die by the rules of the land we live in." Mel says, "We make our own sky, and we can hold it up--together." --Breanna J. McDaniel, freelance reviewer