A Weekend in New York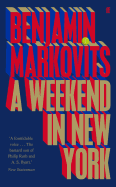 Featuring as its epigraph the first half of Tolstoy's well-known aphorism about happy and unhappy families, Benjamin Markovits's eighth novel is a wise anthropological study of this most intimate grouping of human life.
A Weekend in New York follows three generations of the Essinger family as they gather on the Upper West Side of Manhattan in the days leading up to tennis pro Paul's first-round match in the 2011 U.S. Open. Ranked No. 82 in the world and now approaching his mid-30s, Paul realizes his middling career is nearing an end. His older brother, Nathan--a Harvard law professor who's being considered for a job in the Obama Justice Department--has unhelpfully calculated his odds of winning at 1,200 to 1. So Paul divides his attention between the formidable task at hand and the urgency of making "the transition from player to former player gracefully and maybe even lucratively," with his girlfriend Dana, a former model, and their toddler son.
The Essingers are smart and acutely self-aware. Along with its precisely observant prose, the main pleasure of Markovits's novel lies in its firm grasp of the complex geometry of life in a family that "pushed you into arguing with them," a group of "talkers not touchers." For all their verbal sparring, Markovits pinpoints the bedrock affection that enables Essingers to unite fiercely against any outsider. Beneath the surface particularities of their lives, there's a universality to this portrait that will bring at least a rueful nod of recognition to any reader. --Harvey Freedenberg, freelance reviewer