Rain and Other Stories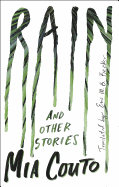 Long considered one of Mozambique's most prominent writers, Mia Couto (Woman of the Ashes, Confession of the Lioness) astonishes with his fiction collection, Rain and Other Stories. Written in the aftermath of his country's civil war, the stories were originally published in 1994 in Portuguese. This English edition was translated by journalist Eric M.B. Becker. Combining fabulism with pointed critiques of war, the collection reveals that Couto found his distinctive voice early in his career.
The opener, "The Waters of Time," tells the tale of a young boy who watches his grandfather dive into a river to give himself over to whatever spirits live there. Its stunning imagery draws power from unexpected comparisons: "I recall seeing an enormous white egret cross the sky. It looked like an arrow piercing the flanks of the afternoon, making all the firmament bleed." In another standout, "Felizbento's Pipe," war comes to a peaceful land. It begins with a government official telling an old man he must vacate his home. The man refuses, choosing instead to dig up the trees in his yard in protest. After days of this, he disappears into one of his holes with his favorite pipe, and years later, a small tree growing out of the hole puffs smoke at sunset.
Playful and poignant, Rain and Other Stories cements Couto's reputation as one of the finest writers in the Portuguese language, and proves Becker's talent as a discerning and perceptive translator. --Amy Brady, freelance writer and editor