Bangkok Wakes to Rain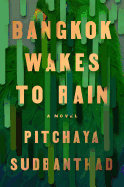 Pitchaya Sudbanthad's Bangkok Wakes to Rain is a kaleidoscope of perspectives and stories: a flurry of lives that pass by each other, inhabit the same spaces and impact their city. Reminiscent of David Mitchell's Cloud Atlas, this is a novel comprised of many stories that crisscross and break apart, forming a fractured, buzzing depiction of one of the world's great metropolises.
With no strict chronology, Bangkok Wakes to Rain follows inhabitants of a building in the middle of the city from the 19th century to the near future, when Bangkok has collapsed under the chaos from climate change. Characters meet for brief periods, connecting with one another incidentally or merely by calling the building home during some point of their lives. While not explicitly political, the tales focus on outsiders: those removed from typical Thai society because of ethnic background, personal history or simple geography. Each story resonates like part of a choir singing in harmony.
Juggling a dozen plotlines over an extended period of time is quite a feat. It takes a little while for Sudbanthad to get everything up and running, but once he does, reading Bangkok Wakes to Rain feels like watching a spinning top stay perfectly upright. The stories move together to create a potent, elegiac whole, expertly evoking the sorrow that can come with nostalgia and showing how loss in the past echoes on into the future.
This is an assured debut, a beautiful, wistful piece of place-making. --Noah Cruickshank, adult engagement manager, the Field Museum, Chicago, Ill.