Black Leopard, Red Wolf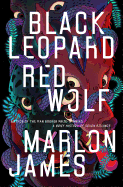 Marlon James's fourth novel channels his interests in history and the supernatural into a full-blown fantasy epic. Black Leopard, Red Wolf is his follow-up to the Man Booker Prize-winning A Brief History of Seven Killings, and the first entry in the Dark Star trilogy. The novel takes place in an ancient Africa where gods and mythical creatures walk among humans; the protagonist, appropriately named Tracker, earns a living tracking down lost people with his extraordinary sense of smell. Tracker is hired into a motley band assembled to find a missing boy, but the quest is not as simple as it seems, taking Tracker on a series of journeys across James's inventive, magnificently realized world.
Black Leopard, Red Wolf is preoccupied with storytelling. The entire novel is essentially a story being told by Tracker to a mysterious Inquisitor, but it also contains tales within tales in which Tracker's companions share their own histories. In each, James experiments with language, inventing numerous dialects that follow their own grammatical rules. This is a book with dozens of characters and just as many distinct voices. Its pleasures are not only linguistic, however, as James more than delivers the epic fantasy goods. Fights are frequent and bloody, with Tracker employing his dual axes to deadly effect.
The experience of reading Black Leopard, Red Wolf might be best compared with listening to stories around a fire in the late, dreamlike part of the night. James's book is something fresh and new and completely unforgettable. --Hank Stephenson, bookseller, Flyleaf Books, Chapel Hill, N.C.