Cherokee America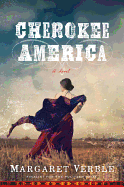 Margaret Verble's sophomore novel is set 50 years prior to the events in her debut, Maud's Line, finalist for the 2016 Pulitzer Prize in Fiction. Cherokee America follows one family's tumultuous spring in an 1875 Cherokee Nation West community.
A series of unpleasant surprises plagues Cherokee "Check" America Singer as she attempts to juggle running a farm, mothering five boys and nursing her dying husband. Puny, her African American hired hand, has fathered a baby out of wedlock, much to the dismay of his wife, Ezell, the Singers' cook. Check's 19-year-old son, Hugh, shames the family with his involvement in a bawdy house disagreement that leaves two dead.
Then, rumors of a hidden gold stash ignite schemes that lead to murder. A tribal member herself, Check knows the U.S. government would love an excuse to interfere in the Cherokee Nation. So when two U.S. marshals show up to investigate the killing, Check and her neighbors must think quickly to protect their nation's sovereignty and keep one of their own from being arrested and hanged for the crime.
An enrolled Cherokee citizen, Verble based her story on real people and events. Her slice-of-life, episodic style deftly captures the harshness of life in the land that will become Oklahoma, and highlights the strength and close bonds it forged. Check's practicality and confidence rarely waver. Moreover, the friendship formed between Ezell and the 14-year-old mother of Puny's baby provides a counterpoint to the grimmer moments. Cherokee America is a powerful portrait of a vibrant community fighting to keep its independence. --Jaclyn Fulwood, blogger at Infinite Reads