One Another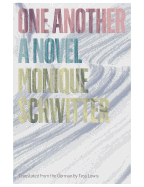 One Another is a story of love and regret by Swiss novelist Monique Schwitter, translated from the German by Tess Lewis. An unnamed narrator hears news that sparks memories of a "long-destroyed, shredded story whose scraps and tatters are banding together, piling up, towering over me--and forming hideous new aspects and grimaces."
The narrator, a writer, Googles the name of her first lover, Petrus, only to discover that he recently committed suicide. This shock upends her already shaky relationship with her husband, and sets in motion a decision to compose the story of all her lovers. "One after the other. Man for man." Twelve chapters in the book correspond to these men--one of whom, and not the last, is her husband. The story moves imperceptibly across time, just as each man's importance waxes and wanes in her memory. She attempts to understand her history with men through writing, asking herself, "Maybe I'll find a solution on the way, as I write? Perhaps enter higher spheres of love, free of corporeality, in Plato's pure realm?"
One Another may be autobiographical, or it may not, and the narrator's acute self-awareness leaves the reader pleasurably undecided. She says, "My introverted, unhappy delivery may be hardening the audience's inclination to believe the narrator is me into the certainty that... only one person is standing before them: the narrator, unhappy in love." This is a sophisticated love story perfect for fans of Lauren Groff and Kate Atkinson. --Cindy Pauldine, bookseller, the river's end bookstore, Oswego, N.Y.