The Art of Leaving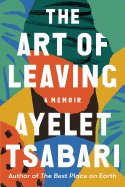 Ayelet Tsabari (The Best Place on Earth) grew up in Israel, part of a large Yemeni Jewish family. When Ayelet was only nine years old, her beloved father passed away, leaving her rootless and restless for many decades to come, as her mother struggled to provide for her and her siblings. Tsabari's uncertainty about her place in the world was caused partly by her fatherless status, and partly by being Yemeni in Israel in a time when Ashkenazi (European) Jews looked down on the Mizrahi (Middle Eastern).
Tsabari struggled in school, failed miserably during her compulsory service in the Israeli army and went through a string of bad relationships. She worked a series of menial jobs, spending all her money on drugs or airplane tickets. She also spent months traveling the United States, India and Asia.
Finally settling in Canada, Tsabari remembered that as a child she'd longed to be a writer like her father, a published poet. She set about to express herself in a language that was not her mother tongue. Slowly, as The Art of Leaving unfolds, Tsabari finds her way back to herself and back to her craft.
Told in a series of fierce, unflinching essays, Tsabari confronts what it means to be a Yemeni Jew, and how she finally came to find her place in the world. With grace and wonder, she ponders motherhood and marriage, and reconciles her happy adulthood with the sadness of her childhood. --Jessica Howard, bookseller at Bookmans, Tucson, Ariz.