The Owls Have Come to Take Us Away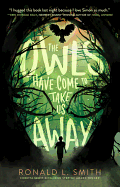 Twelve-year-old Simon is picked on by other kids. He lives on an Air Force base with his white father and black mother and is obsessed with aliens. One kind of alien in particular freaks him out: Grays. "It's such a simple word. A color.... Something unknowable. Something that makes [him] not want to sleep."
When Simon's dad tells him the family is going camping that coming weekend, Simon is not happy. But his dad is a man's man, always talking up "the great outdoors" and dragging his family along on camping and fishing trips. Savvy readers will not be surprised when something terrifying happens on the trip: walking in the woods at night, Simon encounters strange lights, an owl looking directly at him and a commanding voice in his head saying, "QUIET. REMAIN STILL." Everything goes black.
Simon becomes convinced he has been abducted by aliens who have implanted a monitor under his skin. His parents send him to a psychiatrist who loads him up on anti-anxiety medications. Then, Simon finds a group of people who do believe him, and he begins to wonder if they and he are, in his words, "nuts." He's not the only one. Through most of The Owls Have Come to Take Us Away, the reader can't be sure if Simon really did have an alien encounter or if his "uncontrolled thoughts" and impressively creative imagination are getting the better of him. Ronald L. Smith, the Coretta Scott King/John Steptoe New Talent Award-winning author of Hoodoo, infuses every page of this book with a dash of menace. Simon's desperate longing for someone--anyone--to take him seriously will resonate with many young readers, whether aliens are stalking them or not. --Emilie Coulter, freelance writer and editor