A Good Enough Mother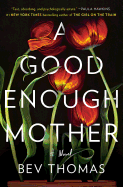 Bev Thomas was a clinical psychologist for the U.K. National Health Service for many years, and her debut novel echoes that experience: her tense psychological thriller, A Good Enough Mother, features a therapist in London.
Ruth Hartland is good at her job, helping patients cope with horrible traumas. Underneath her calm, professional exterior, though, Ruth has been traumatized. Her beloved son, Tom, who always struggled to fit in, disappeared without a trace more than a year ago, before his 18th birthday. Ruth is still living in crisis, though most people at work don't know about Tom. When Dan, a new patient, comes to Ruth needing help after an assault, she is shocked by how much he resembles her son. She knows she should refer him to another therapist, but she feels compelled to help this stranger who reminds her of Tom. As the two begin to work together, Ruth's professional limits continue to erode, and her own feelings of guilt and sorrow get in the way of helping Dan.
Tension slowly builds in this gripping story, as details of both Ruth's and Dan's pasts gradually come to light. In his sessions, Dan reveals not only the recent incident that brought him to Ruth but also childhood traumas, while Ruth remembers both good times and bad in Tom's childhood. A pervasive feeling of dread grows as lines are crossed and boundaries are blurred in this compelling and suspenseful novel that delves into trauma, family and motherhood. --Suzan L. Jackson, freelance writer and author of Book By Book blog