Becoming a Hair Stylist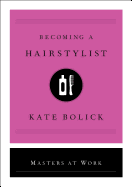 Gwenn LeMoine is the entrepreneurial force behind New York City's hottest salon, Parlor, with a location in the East Village and one in downtown Brooklyn. Her clientele has included film and literary star Molly Ringwald, TV icon Rue McClanahan and international singing sensation Adele. "Parlor is a haven of individuality, inclusivity, and comfort," explains Kate Bolick (Spinster), drawing attention to the shop's welcoming environment for the particular quirks of clients big and small. As part of the Masters at Work series, Bolick's profile of LeMoine is an entry point to the ever-evolving shape of the beauty industry.
Becoming a hair stylist might sound like the easiest thing in the world--after all, isn't beauty school where dropouts go? "Nothing could be further from the truth," Bolick writes. "Nearly every hairstylist I interviewed admitted that beauty school wound up being a lot more difficult than they'd thought it would be." With classes in anatomy, sanitation and chemistry, plus hours and hours of hands-on practice, such an education is rather strenuous. And after graduation, new stylists often need to learn their employing salons' cutting techniques, because schools train for a test that rarely keeps up with fashion trends.
Taking into consideration the historical arc of cosmetology, strides made by legends like Vidal Sassoon and Horst Rechelbacher and the landscape of gender politics, Becoming a Hair Stylist is a slim yet robust introduction to a thriving trade. "All good hairstylists possess a talent for working with their hands and emotional intelligence" is a maxim Bolick encountered again and again in her research. Interested parties, take note. --Dave Wheeler, associate editor, Shelf Awareness