Cape May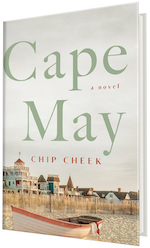 It is late September 1957. Newlyweds Effie and Henry have traveled from their small Georgia town to Cape May, N.J., for their honeymoon, only to find themselves in a nearly deserted seaside resort. When compared with her nostalgic memories of summers at her uncle's Cape May home, the ghostly atmosphere is a disappointing reality for Effie, who "had not understood what 'off-season' meant."
Feeling unmoored and sexually uncertain with each other, the young couple--Effie is 18, Henry is 20--are on the verge of leaving early when they meet Clara, a vivacious Manhattan socialite who remembers Effie from their childhood summers. Several gin and tonics later, Effie and Henry have become enamored with Clara and her inner circle, one that includes her wealthy and gregarious lover, Max, and his beautiful but aloof half-sister, Alma.
Being away from everything and everyone they know in Georgia provides Effie and Henry with a false sense of invisibility and invincibility, the irresistible thrill of remaining hidden while testing boundaries, limits and each other's trust. As Effie and Henry's morals, inhibitions and innocence become untethered, they don't realize that their young marriage has approached a dangerous point of no return.
That precipice makes for an especially compelling and shocking story, one that debut novelist Chip Cheek tells with exceptional symbolism and foreshadowing. There is a film noir quality to the tense narrative that brings the reader immediately into the isolated setting and time period. The heightened sense of danger and foreboding is well supported by Cheek's decision to place Cape May in the fall of 1957. At a large dinner party Clara hosts, the conversations are about the threats from the Soviets. "Always there was something about the Soviets. Korea, outer space, the threat of nuclear war." Henry speculates that some of the guests may even be "covert Communists, of the sort that had supposedly infiltrated the upper echelons of American society." Rather, the real danger lurks within each character's soul. No one is the person we once believed and hoped they were. Everyone is flawed, and tragically so. Having been raised near Flannery O'Connor's hometown of Milledgeville, Ga., Cheek's strong Southern gothic influences are the real deal.
In Cape May, the small details--the kind that reward and thrill careful readers because they signify greater meaning--are among Cheek's strengths. Before meeting Clara, Max and Alma, Henry is reading James Boswell's The Life of Samuel Johnson, "which his Uncle Carswell had given him as a wedding present. Carswell had read it when he was a young man, and it had been a good guide to him, he said. 'You're always going to be at work on yourself, son, and it's always going to be a struggle. But it's the struggle that'll make you a good man.' Henry liked the ideas; he had a vision of the kind of man he wanted to be--virtuous, humble, strong, and bold, full of good cheer but in healthy moderation--and he was eager to learn."
Duplicity and transformation of the self is at the heart of Cape May. Henry's struggle to be a good man is immediately tested on his honeymoon at a moment of betrayal coinciding with his and Effie's sexual awakenings. In Cape May, Cheek shows that every couple encounters such a moment of their own--whether physical, emotional or some combination of both--and it holds the power to change a relationship forever. --Melissa Firman