From Scratch: A Memoir of Love, Sicily, and Finding Home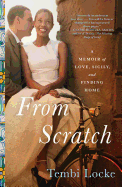 It may sound familiar: an American woman goes to Italy, indulges in love, wine and good food, and leaves sensually and spiritually transformed. But while this template technically describes From Scratch: A Memoir of Love, Sicily, and Finding Home, Tembi Locke's story is different from ones you've heard before.
Locke, now a Hollywood actor, met Sicilian chef Saro while studying in Florence as an undergraduate in the early '90s. Their connection was immediate, and they married soon after. Over the next 20 years, they made a home in Los Angeles, adopted a daughter and lived a happy, beautiful life together nourished by love and Saro's transcendent cooking. But, from the beginning, heartbreak lurked beneath the surface. The first was that Saro's deeply traditional family disapproved of him marrying a black American woman and refused contact with the couple for years. The second heartbreak--one that, unlike the estrangement, couldn't be overcome--was cancer, and in 2012, Saro died after the recurrence of a malignant tumor that had first appeared 10 years before.
Undone by grief, but determined to forge a new life for herself and her young daughter, Locke begins the slow, painful work of healing. For Locke, this means traveling to Saro's home village and communing with her also-widowed mother-in-law, Croce. Over the course of three Sicilian summers, Locke and Croce--two women of vastly different experience--come to share a profound intimacy and a fuller understanding of the man they both loved.
Locke's resilience and persistence in the face of such loss is incredibly moving, and readers will want to eat the meals she describes right off the page. --Hannah Calkins, writer and editor