I Was Their American Dream: A Graphic Memoir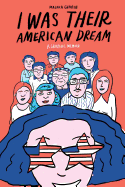 Malaka Gharib's graphic memoir, I Was Their American Dream, is many things in one entertaining book: an immigrant story, a coming-of-age story, a cultural education and a critique of American whiteness. Gharib, a Washington, D.C., journalist and artist, is a first-generation Filipino Egyptian American. The book's immigrant story is that of her parents, her mom hailing from the Philippines and her dad from Egypt. The title refers to their attempt to build the American Dream, as demonstrated in the opportunities they create for Malaka. Though the parents divorce--and her father moves back to Egypt--they still help their daughter through the strange experience of growing up American.
This graphic memoir balances delightful drawings with humorous and down-to-earth captions. It proves a great vehicle with which Malaka can navigate the complexities of her identity, from her upbringing in a diverse high school in California to challenges she later faces in a mostly white college in New York. Malaka is both attracted to and wary of white culture, the way it assumes its own superiority in adult life. She meets and falls in love with a white man named Darren, but makes a valiant effort to preserve and practice her different cultural heritages in their shared lives. The book features fun and informative games and trivia that add to the narrative. Perhaps the cleverest is a "microaggressions" bingo game that details all the many ways white people mangle issues of race and ethnicity, knowingly and unknowingly.
I Was Their American Dream is a book that celebrates both differences and similarities between people, and for that reason rings true with a sense of humanity. --Scott Neuffer, writer, poet, editor of trampset