Indian-ish: Recipes and Antics from a Modern American Family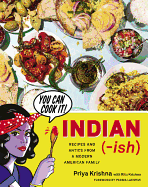 Having written for the New York Times, the New Yorker and Bon Appétit, Priya Krishna grants that "being a food writer is a Very. Cool. Job." With Indian-ish: Recipes and Antics from a Modern American Family, co-written with her mom, Ritu, this effervescent food writer has written a Really. Great. Cookbook.
"Indian-ish" describes the Krishnas' food and identities, a dynamic blend of Indian and American. As a kid in Dallas, Tex., Krishna was acutely aware of being different from her mostly white peers: "Most of my friends had straightened brown hair (mine was black and frizzy) [and] ate turkey-and-mustard sandwiches for lunch (Mom packed me dal until I begged her to switch to PB&Js." But eventually, Krishna grew to crave the quick, creative meals her mom served up every day. Cue Indian-ish.
Where to start? Dahi Toast, a crunchy-tangy answer to a grilled cheese. For a crowd, Matar Paneer. Other standouts: Roti Pizza and Tomato Rice with Crispy Cheddar (dubbed by the cookbook's photographer "even better than pizza." The vast majority of the ingredients are inexpensive and easily accessible. For any that aren't, Krishna makes allowances. "No paneer? No problem!" Use feta, as in Spinach and Feta Cooked Like Saag Paneer. For non-vegetarians, there's one chicken and three fish recipes.
Save room for dessert--but plan ahead. Shrikhand (sweet saffron-perfumed yogurt) and Quinoa Kheer (rice pudding with a quinoa twist) require long chilling times. For more immediate gratification, make Boozy Strawberries and serve them with Dahi Cheeni Chawal (Sweetened Yogurt Rice) and call it your own Indian-ish dessert. Krishna would approve. --Katie Weed, freelance writer and reviewer