Save Me the Plums: My Gourmet Memoir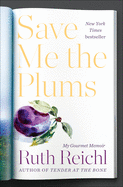 In a dusty used bookstore, eight-year-old Ruth Reichl gazed dreamily at the swordfish in her hands. It was on the cover of Gourmet, and she was hooked. Some four decades later, Reichl (Tender at the Bone, Garlic and Sapphires) became editor-in-chief of that magazine, until it shuttered in 2009. In Save Me the Plums: My Gourmet Memoir, she dishes on what went wrong (and, for a long time, went right) in her decade at the magazine's helm, sharing recipes from along the way.
A New York City native with an abiding hippie streak, Reichl has been long beloved for her witty, unpretentious food writing. Though Gourmet flatly rejected the one article she pitched to them when she was starting out, others courted her--first the Los Angeles Times, then the New York Times, where she was a restaurant critic. Finally, Gourmet called with the big offer: editor-in-chief.
Reichl accepted nervously, and spares no ego about her rough start, despite the prestige and perks of the job (car, driver, clothing allowance). Hurdles arose by the dozens, but she learned fast. Soon the magazine that many were dismissing as elitist and out-of-touch became again accessible, viable and culturally significant.
Rich with reflection, the memoir is classic Reichl: deeply personal, often funny, sometimes disillusioned. The book's final recipe, a German Apple Pancake, ends: "Spoon the liquor over the top, and set the pancake on fire." But then, if you're like Reichl, plan to come out of the flames all the wiser. --Katie Weed, freelance writer and reviewer