Tangled Up in You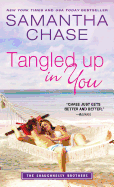 The Shaughnessy brothers have found their true loves, but the rest of the family is still looking. Though Samantha Chase's series is up to its seventh book, this twist on the series is a perfect entry point for new readers.
Teagan, a cousin of the brothers, thought her chance at love had passed. When her fiancé died during active duty, leaving her pregnant and alone, she threw herself into raising her son, Lucas, and finishing her education. But when she meets Bobby at a family picnic, her instant attraction to him makes her wonder if she's ready to open her heart again. Bobby, a police officer recovering from a gunshot wound, hasn't considered settling down; seeing Teagan's kindness at the picnic makes him think differently.
Teagan and Bobby tip-toe their way into a new relationship, and both have valid concerns. The missteps they make in their courtship are genuine. Bobby is worried about the type of role model he'll be for Lucas, though he's a perfect uncle to his sister Anna and her husband Quinn Shaughnessy's children. Teagan doesn't want to be disloyal to the memory of her fiancé and is also worried about the dangers Bobby's job as a police officer could bring to their possible family--plus, he's known for playing the field. Tangled Up in You is a sweet story of two people trying to find their way through a difficult situation with love, compassion and family, all set against the serene backdrop of the Carolina coast. --Amy Dittmeier, adult services librarian, Brookfield Public Library, Ill.