The Next Great Paulie Fink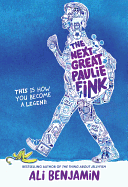 An "evil genius." A "god." An enigma: Paulie Fink, legendary student at the tiny rural Mitchell School, disappeared without a trace after sixth grade. At the beginning of the new school year, before they learn that prankster Paulie is no longer enrolled at Mitchell, the 10 remaining seventh graders eagerly await their mischievous ringleader. When new kid Caitlyn Breen walks into the classroom instead, everyone is disappointed. "Well, you're not Paulie Fink," one girl says. Already upset about moving to "middle of absolutely nowhere" Vermont, Caitlyn is equally dismayed: "This, right here, is probably the most horrifying moment of my life."
Longing to fit in, Caitlyn feels like "some sort of space alien trying to navigate an unfamiliar planet." So when one of the seventh graders suggests that they host a reality-TV-style competition called "The Search for the Next Great Paulie Fink" and make cranky Caitlyn the judge, everyone jumps on board, even Caitlyn. After all, as one classmate says, "Doesn't everybody need a little Paulie Fink in their life?" Caitlyn's Paulie-worthy challenges for the contestants have some exciting and chaotic outcomes. But when the seventh graders learn that, like the retelling of history, all the stories about the "First Great Paulie Fink" are incomplete and subject to perspective, the class comes together in an unexpected, heartwarming, hilarious and human way.
Ali Benjamin (The Thing About Jellyfish) has a phenomenal knack for weaving together seemingly mismatched threads--goats, soccer, pantsuits, bullying, Plato--as if they have every right to be together, making a gorgeous tapestry. The Next Great Paulie Fink is a beautiful, powerful novel about embracing one's own great self, even--or especially--in middle school. --Emilie Coulter, freelance writer and editor