The Unlikely Adventures of the Shergill Sisters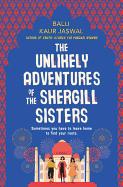 When Sita Kaur Shergill was alive, her three British-born daughters didn't always obey her; in death, she demands total surrender. Sita's last wish was for her daughters to scatter her ashes in India, her homeland. She even left them a travel itinerary. As middle sister Jezmeen, a D-list London actress, interprets her mother's actions, "the trip was less about spirituality and more about Mum forcing them to travel together."
The Unlikely Adventures of the Shergill Sisters often reads like a travel narrative, with points of view wandering as the sisters do, taking in (per Mum's orders) India Gate and the Golden Temple. Meanwhile, the sisters consider their respective burdens. Jezmeen has a doozy: she has become an international laughingstock since a video of her recent tantrum at a London restaurant went viral.
Jezmeen's troubles are as public as her sisters' are private, and chapters abound with clues about Rajni's and Shirina's secrets. (They're revealed toward the book's end.) For Rajni, the trip stirs bad memories of something that happened the last time she went to India, when she was a rebellious teenager traveling with her newly widowed mother. And Shirina, who arranged her marriage through a Sikh matrimonial website, is concealing from her sisters both her unhappiness at home in Australia and the reason for her weight gain.
As she did in Erotic Stories for Punjabi Widows, Balli Kaur Jaswal explores the perks and prices of assimilation that are particular to women from traditional cultures, spiking her narrative with brilliant screwball-comedy touches. --Nell Beram, author and freelance writer