The Wonder of Lost Causes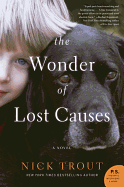 Nick Trout (Dog Gone, Back Soon; The Patron Saint of Lost Dogs) delivers a beautifully written, poignant story infused with gentle humor and compassion. Jasper Blunt is a precocious, very lovable 11-year-old battling cystic fibrosis and its complications. Kate, Jasper's hardworking single mother, is struggling to keep her son healthy and make ends meet while working hard as a rescue shelter veterinarian on Cape Cod in Massachusetts.
When a mysterious and badly abused dog arrives at the shelter with health problems of his own, Jasper and the dog form an instant bond--the dog looks out for the boy, who intuitively knows what the dog is feeling. Jasper claims he can communicate with the mutt and even believes the dog told him his name, Whistler. This intrigues yet worries Kate. Might Jasper, plagued with breathing problems, hearing loss and a host of other ailments, also be growing delusional? When Jasper lobbies Kate to adopt Whistler, she resists. After all, their apartment building does not permit pets. But when Whistler's background and his true origin are ultimately discovered, Jasper and Kate face a big decision that takes them on an adventurous journey. Might the Blunts need Whistler as much as he needs them?
Trout's well-paced narrative is filled with big, resonant scenes that render the story surprisingly suspenseful. As Whistler's history unfolds via the points-of-view of Jasper and Kate, revealing their innermost thoughts and fears, the mother-son bond deepens. This tender, inspirational story--forged with themes of deliverance and hope--overflows with profound meaning. --Kathleen Gerard, blogger at Reading Between the Lines