Everything Is Just Fine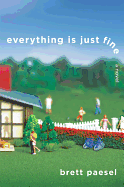 It's the start of a new season for the Beverly Hills junior soccer league, and Coach Randy is pumped. He's sending e-mails to all the players' parents, with lots of exclamation points, inspirational quotes from Braveheart and tips on how the team can use "focused rage" on the field. The players are 10 years old.
One of the parents is newly divorced Diane, whose habit is to reply late at night with bluntness to the mass team e-mails and then apologize the next day for her rambling drunk messages. She may be harsh with her criticisms but she's not wrong. There's also Jacqui, the team mom, who remains unassailably positive, always reminding everyone "it DOESN'T MATTER who wins, it's playing the game that counts."
Brett Paesel's Everything Is Just Fine follows these characters and more, including Coach Randy's unhappy wife, the assistant coach and star kid player, as they navigate the season and the obstacles in their personal lives. Parts of their stories are extrapolated from e-mails, and what seems funny at first deepens into an exploration of how people in Beverly Hills mansions with fancy decks can be unhappy, too. They're contradictory--upbeat and depressed, brave and anxious, promiscuous and lonely--just like anyone. Most of these characters don't even like one another, but Paesel demonstrates that when it counts most, they can still rally to support and treat others with compassion. In the end, it really isn't about winning, but choosing to stay in the game of life. --Elyse Dinh-McCrillis, blogger at Pop Culture Nerd