Flowers of Mold & Other Stories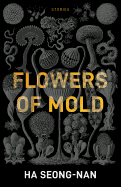 Exploring themes of alienation and control, Ha Seong-nan's Flowers of Mold & Other Stories (translated from Korean by Janet Hong) uses elements of absurdity to introduce people dealing with an alienating urban society and a suffocating traditional culture.
"When did the button of my life go in the wrong hole?" asks a letter-writer in "Toothpaste." Dissatisfaction afflicts many characters, but they're unable to change course. Metaphors for escape appear throughout. In "Waxen Wings" a young female gymnast, bullied and exhausted from training, says, "...if people could escape the confines of gravity, they could fly like birds." A wife and mother in "The Woman Next Door," possibly losing her mind from boredom, remarks that her husband says she's "always floating around in space, never touching solid ground."
People are isolated, for the most part, living in large cities. In the title story, a man surreptitiously goes through garbage bins in his apartment complex, getting to know his neighbors in the only way he can imagine. Yet traditional Korean expectations remain. Women often experience unchecked harassment. They may have careers, but are expected to be "prim and composed," and leave work when (not if) they marry. Men are restrained, too, and any aberration, personal or professional, requires apologies and shame.
Ha's ability to find startling traits in seemingly unremarkable characters makes each story a small treasure. This collection is a welcome contribution from an accomplished author, joining the company of Han Kang and Bae Suah in newly translated Korean literature. --Cindy Pauldine, bookseller, the river's end bookstore, Oswego, N.Y.