Nine Months: Before a Baby Is Born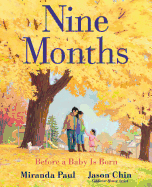 Looking at those remarkable months "Before a Baby Is Born," Nine Months portrays both the everyday experiences of an expectant family and the scientific facts of in utero development.
Using a loose rhyming scheme, author Miranda Paul captures the month-by-month magic of a fetus's growth. This development is captured on the left side of each two-page spread in Caldecott Honor artist (Grand Canyon) Jason Chin's friendly illustrations; the family of three preparing for the arrival of the baby is shown on the right. Beginning with Week 15, the beautifully lifelike illustrations are "actual size" as Mom's belly--and the baby-to-be--grows through the seasons, from winter to summer. The parents are wonderfully and appropriately inclusive of their daughter, giving her a "BIG SISTER" T-shirt and taking her to the ultrasound appointment. After Baby finally arrives, depicted coated with vernix and with the umbilical cord still attached, her big sister and other "[l]oved ones" visit the hospital.
In Nine Months: Before a Baby Is Born, Paul (Water Is Water, illustrated by Chin; One Plastic Bag) includes more detailed information than can be found in many "what to expect" books for children. Chin's warm watercolor and gouache artwork is sweetly reassuring, letting young readers see that while all these miraculous changes are going on inside Mom's body, life keeps going on in the "outside" world. Four pages of back matter allow adult readers to share additional facts with their young charges, including amazing things most babies can do before they're born, lengths of time for other mammals to gestate and some important "what ifs." Reading Nine Months may just become a nightly ritual for expectant families. --Emilie Coulter, freelance writer and editor