The Shining Path: Love, Madness, and Revolution in the Andes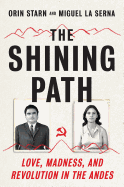 The Shining Path: Love, Madness, and Revolution in the Andes is a gripping history of the titular Maoist insurgency that terrorized Peru for more than a decade. Orin Starn and Miguel La Serna put a human face on the bloody conflict, drawing on diverse characters, including the famous novelist and presidential candidate Mario Vargas Llosa and peasants, like Narciso, who were forced to fight in local militias to protect themselves from the Shining Path. However, the authors pay particular attention to the unlikely trio that directed Shining Path's activities: one-time philosophy professor and Shining Path leader Abimael Guzmán; his wife and second-in-command, Augusta La Torre; and Elena Iparraguirre, who became Abimael's lover and second-in-command after Augusta's death.
Despite the somewhat lurid subtitle, the authors reject insinuations that Abimael and Elena contrived to murder Augusta. Instead, The Shining Path's portrait of the trio is one of comrades and true believers whose righteous convictions devolved into senseless killing. One of the most troubling elements of the book is witnessing the transformation of these well-read intellectuals and political agitators into leaders of a savage insurgency. Starn and Serna are careful not to omit the Peruvian military's brutal and self-defeating efforts to combat the Shining Path. In a cruel irony, the indigenous Andean peasants meant to be the beneficiaries of Guzmán's class struggle would suffer the most. The authors dig through layers of myth to find an anachronistic revolutionary force "at once pathetic and deadly." The Shining Path's greatest strength is demonstrating how good intentions can be buried under dogmatic ideology. --Hank Stephenson, bookseller, Flyleaf Books, Chapel Hill, N.C.