What My Mother and I Don't Talk about: Fifteen Writers Break the Silence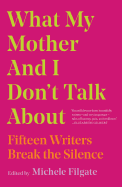 Literary Hub contributing editor Michele Filgate thought she was writing an essay about her stepfather's abuse, but it turned out she was really writing about the relationship with her mother that allowed such abuse to continue. After years of work, her essay was eventually published by Longreads under the title "What My Mother and I Don't Talk About." Readers and writers responded strongly, and Filgate's piece now leads this astonishing anthology.
What My Mother and I Don't Talk About: Fifteen Writers Break the Silence follows that essay with a breathtaking range of responses. Filgate writes, "Mothers are idealized as protectors: a person who is caring and giving and who builds a person up rather than knocking them down.... In many ways, a mother is set up to fail." And while many of the essayists featured here reproach mothers who have hurt them, there are also apologies, confessions and unsolved mysteries.
In "Thesmophoria," Melissa Febos considers her close relationship with her psychotherapist mother by recalling myths, chiefly that of Persephone and Demeter. Brandon Taylor wrestles with the pain his mother has caused: "It's strange, really, that to grasp that which has hurt you, you must trust it not to hurt you when you let it inhabit you"--or when you write about it.
These collected essays are variously rich, tender, angry, despairing and clinical. The result, greater than the sum of parts, is part paean and part denunciation, intelligent, heartfelt and wise. What My Mother and I Don't Talk About is a shrewd, glinting collection of beauty and pain: a gift for mothers and their children. --Julia Kastner, librarian and blogger at pagesofjulia