Brute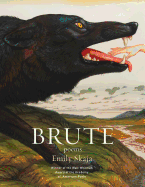 Poet Emily Skaja, recipient of the Walt Whitman Award of the Academy of American Poets, writes visceral, tactile pieces about love and aggression in her first collection, Brute. These are poems of rage and tenderness, sometimes embodied in one breath and the next, but it is Skaja's attention to the natural world that surfaces again and again as the speaker's preoccupation. "It's Impossible to Keep White Moths" bursts forth into its first line to complete the thought, "from flying out of my mouth." She adds, "ravens/ lurk on the Divine Lorraine Hotel as if to say/ Always a corpse flower, never a bride."
Far from being a pastoral collection, however, Brute also dredges up the chilling betrayals of modernity as well. "No, I Do Not Want to Connect with You on LinkedIn" seethes over the cruel trespasses of an ostensibly professional acquaintance. "Trust me when I say we know all about your kind in our ranks," the poet assures him after declaring, "This here is girl country."
A mix of elegies and aubades, plus a litany of girl saints ("Dear Katie," "Dear Ruth," "Dear Emily"), Brute draws to a close over the recurring myth of Eurydice, once "just a woman walking alone/ through a field of snakes." In the end, the poet coaxes her from the underworld, "Come out into the new wet earth," breaking a cycle of death and asserting, "I will lead myself out of it."
Piece by piece, Emily Skaja builds a powerful narrative from singular marvels of imagery. --Dave Wheeler, associate editor, Shelf Awareness