In Love with the World: A Monk's Journey Through the Bardos of Living and Dying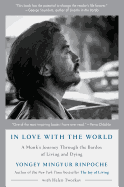 Nepal native Yongey Mingyur Rinpoche (The Joy of Living) entered the monastery as an 11-year-old, and by 2011, then age 36, he found himself the abbot of three Tibetan Buddhist monasteries. Through his organization Tergar International, he was also the leader of a worldwide network of meditation communities. On June 1, 2011, under cover of darkness and without a word to his followers, he traded his privileged heritage and sheltered surroundings in a monastery in India's Bodh Gaya for the harsh existence of a solitary wandering yogi, an "ego-suicide mission" he planned to pursue for at least three years.
In Love with the World focuses on the first few profoundly consequential weeks of Mingyur Rinpoche's itinerant retreat. He vividly describes that new environment, beginning with the sensory shock of encountering life in a packed, foul-smelling coach on the train to the Hindu holy city of Varanasi, sharing his existence in an elemental way with some of the most impoverished members of Indian society.
But the heart of the book is a terrifying account of his near-death experience in Kushinagar. He is stricken with a catastrophic case of food poisoning, after dining on scraps he begs from a nearby restaurant when he spends his last rupee. As his illness deepens, he drifts in and out of consciousness, and draws upon a lifetime of intensive meditation practice to inhabit his experience.
In Love with the World takes the reader inside the mind of a meditation master, with much the same feeling one might have listening to a world-class musician or artist describe the process of executing a complex work. --Harvey Freedenberg, freelance reviewer