Middlegame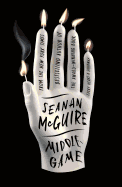 In a fantasy as deftly twisted as her Wayward Children series, Nebula winner Seanan McGuire (That Ain't Witchcraft) once again demonstrates her instinct for turning sweetness into darkness.
Twin siblings Roger and Dodger reconnect during elementary school after their separation at birth, but their reunion is no Hayley Mills summer camp singalong. For one, they live on opposite coasts of the United States and communicate through an inexplicable telepathic link. For another, the twins weren't born but built and harvested in a secret lab by James Reed, who has ambitions to rule the world.
By design, Roger has great facility with language and strong powers of persuasion, while Dodger lives for mathematics and can reset the timeline of the universe. As they grow up, the twins connect psychically but are separated repeatedly. Eventually, aided by another construct whose twin was murdered, Roger and Dodger must decide whether to remain puppets or take the fight to Reed.
Alchemy and its pseudoscientific accoutrements strike the perfect balance between the mystical and the eerie in this high-concept fantasy. McGuire's penchant for snappy, character-revealing dialogue carries the day and makes the more mind-bending plot twists go down easily. References to L. Frank Baum, the Midwich Cuckoos and more recent pop culture also help to break down the sometimes dense logical structure for the reader.
As atmospheric and suspenseful as a gothic thriller, Middlegame is at heart a loving examination of the push-and-pull nature of the sibling bond, in which the parties can simultaneously be best friends, worst enemies and each other's biggest weakness. Readers should come for the tightly constructed world and stay for the pleasure of watching the twins choose each other, come what may. --Jaclyn Fulwood, blogger at Infinite Reads