William Shakespeare's Much Ado About Mean Girls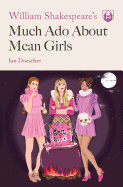 After a made-for-TV sequel, a novelization and a musical adaptation on Broadway, the wildly popular 2004 teen comedy Mean Girls is now a Shakespearean play in Ian Doescher's Much Ado About Mean Girls.
Doescher (William Shakespeare's Star Wars series) remains faithful to the original script, telling the story of 16-year-old, homeschooled Cady, who has been living in Africa for the past 12 years. Now a student at an Illinois high school, Cady struggles with adapting to life outside the "Afric plains." Outcasts Janis and Damian educate her about their school's social classes, warning her against the uber-popular Plastics. When Plastics leader Regina takes an interest in Cady, her new friends encourage her to infiltrate the group. But as Cady climbs the popularity ladder, she quickly learns that it's a long fall from the top.
Doescher doesn't merely adapt the cult classic; he transforms it. He effortlessly translates scenes and dialogue from the screenplay ("I hear her hair's insured for $10,000") to Shakespearean language and meter (" 'Tis said the lady's hair is well insur'd--ten thousand ducats should it damag'd be"), maintaining its original humor while injecting some of his own. He pays homage by including lines from the Bard's plays, mostly delivered by main female characters who are all paired with a Shakespearean counterpart (according to an afterword), as well as from "extras," like a mall salesperson who quotes Love's Labour's Lost. Barton's handful of black-and-white vignettes aid in bringing together the old and new; for example, showing the Plastics' notorious "Jingle Bell Rock" costumes adorned with ruffs.
Because of Doescher's handiwork, this amalgam of storytelling forms stands on its own. Those already familiar with the film should find this Shakespearean treatment easily accessible, while Bard fans will likely relish the nods to his style and characters. --Lana Barnes, freelance reviewer and proofreader