Loudermilk: Or, the Real Poet; Or, the Origin of the World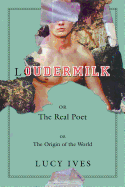 Loudermilk, the second novel from poet Lucy Ives (Impossible Views of the World), is a book where profound poststructuralist meditations on language, chance and creativity are deftly spun through with a myriad of jokes about farting, sex and male anatomy. The novel centers on handsome Troy Augustus Loudermilk, who wins a fellowship to a famed Midwestern creative writing institution by using his friend Harry's poetry. Harry Rego--directionless, agoraphobic and bearing close resemblance to "a hobbit or shaved teddy bear"--follows Loudermilk to the Midwest, agreeing to be his ghostwriter in exchange for a spare room. With the Bush presidency and invasion of Iraq playing out ambiently and calamitously in the background, Loudermilk perfectly captures the strange cultural ethos of the early 2000s.
Although Loudermilk's frat-boy antics and inexplicable charisma are the heart of the novel, Loudermilk is also populated with a number of other characters ranging from plotting to pathetic: one-time award-winners with perpetual writer's block, drunk professors, scorned geniuses and teenagers on their worst behavior. Throughout the course of the novel, Ives produces distinct writing as every one of these characters, prompting the reader to consider the ways in which creativity often involves accessing other selves and inhabiting different personas. With razor-sharp prose and a plenitude of linguistic strangeness, Ives has written a novel about American college life that is both philosophically gripping and exceptionally hilarious. --Emma Levy, bookseller at Third Place Books Seward Park, Wash.