No Walls and the Recurring Dream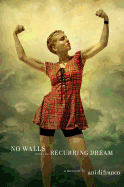 Maybe it began the summer when young Ani DiFranco wanted to spend more time at a horse camp than her parents were willing to pay for. DiFranco raised the extra money herself through babysitting, selling her possessions and otherwise honoring the DIY creed with which her name is now synonymous. As the Grammy-winning singer-songwriter writes in her memoir, No Walls and the Recurring Dream, "My utter conviction that I don't need anyone or anything but myself to do what I need to do in life got me through childhood and... has also been the essence of my superpower."
DiFranco, who was born in 1970 and raised by bohemian parents in Buffalo, N.Y., began performing music with her guitar teacher when she was about 10. By high school, she knew her path: she created a three-year course plan and graduated at 16, becoming an emancipated minor. Her fame was gradual and hard-won, achieved through schlepping to every gig offered and creating Righteous Babe Records in 1990. "The point was not to conquer the world of business so much as to devise a way of having a career in music without having to associate with businesspeople at all."
Fans of DiFranco's music know that she can write lyrics, and No Walls and the Recurring Dream's prose employs a similar playful acuity (Pete Seeger would "reach around behind the heads of people he was talking to and turn off the spotlight they had trained on him"). The book tracks DiFranco's career only through 2001; let's hope for an encore. --Nell Beram, author and freelance writer